Download The Pay With Confidence Guide
Pay For Performance and Inspire Your Staff to Boost Their Productivity
Find new and prospective talent for your cleaning business and drive cleaner productivity up with exceptional pay incentives. MaidCentral automates complex pay for performance including percentage pay, fee split, job ticket, allowed hours, split hourly, and more.
Trusted by some of the best cleaning companies

Unlock the true potential of your business with our tailor-made solutions
Why take our word for it when you can explore what some of the most successful business owners in the cleaning industry have to say:
Essential Tools within your reach
We've got everything you need to truly succeeds
Job Scheduler
View all the jobs within a single day broken down into customer information, job time, team members, and entire teams of cleaners.
Sales + Marketing
Make your sales process more intuitive with fast online estimates, easy invoicing and scheduling, and text and email client alerts.
Customer Portal
Our app allows your clients to seamlessly change their payment options and contact information, as well as send automatic scorecards.
Employee Engagement
All the members of your team can easily clock in and clock out using an intuitive dashboard and finalize their job worksheet with reminders, photos, and notes.
Reports + Dashboard
Our dashboards and reporting functionalities allow you to swiftly generate the vital metrics you need. From there, you can go a step further and use it to increase your profit.
It's time to take the growth of your company into your own hands
There's plenty to deal with as an owner of a cleaning business, and it can be difficult to juggle all of the responsibilities on your own. It can quickly become too complicated to:  
Deal with various staffing issues
Respond to potential customer complaints
Take care of all the scheduling and rescheduling
Simultaneously use multiple software tools and apps
If this is you, you're probably spending far too much time on figuring out all the little details of your business. That's what MaidCentral is here to help you with. Our app helps introduce your company into a new era of organization and success by unifying all the tools you need and streamlining your entire operation.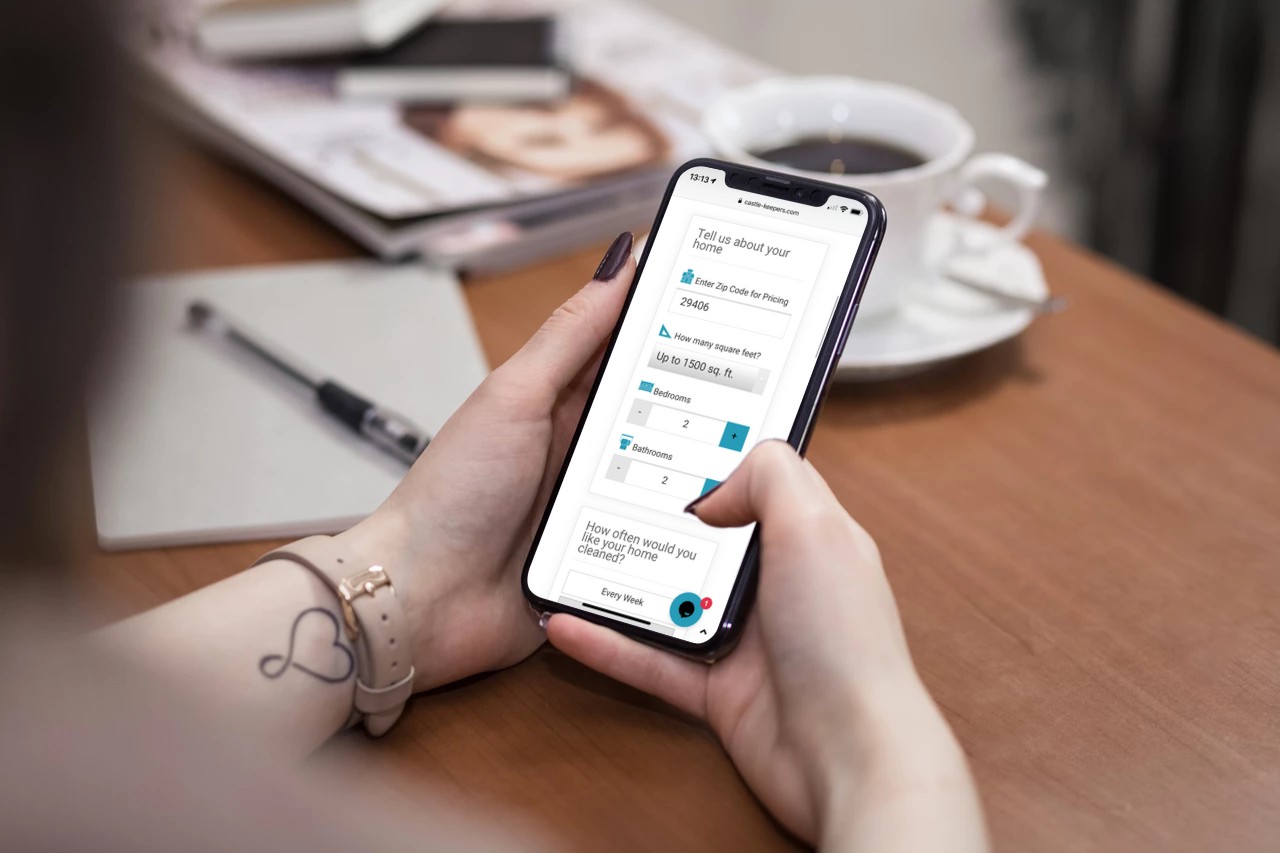 Eliminate the stress of running a business and drive profits with performance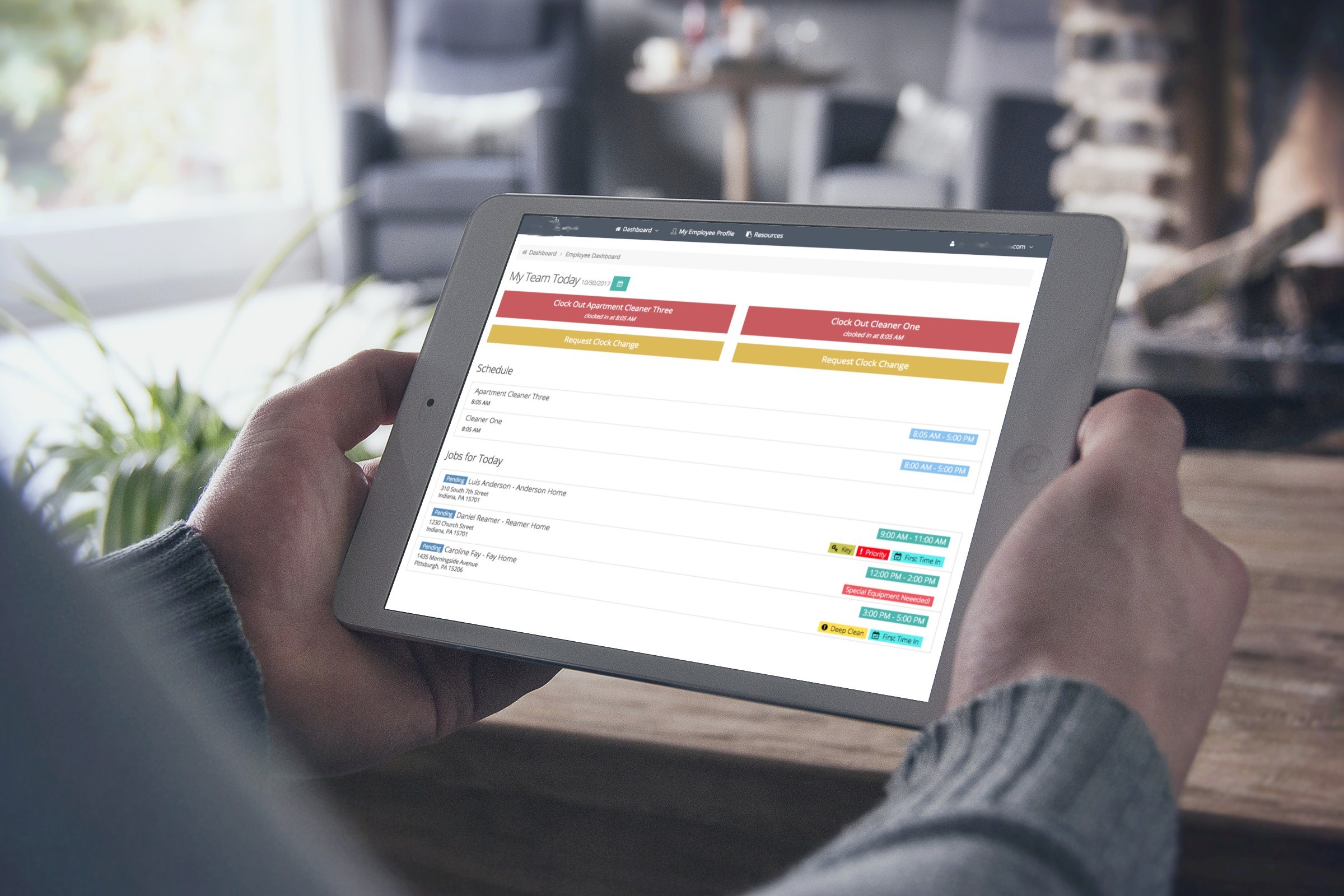 Take back the reins and steer your business in the right direction
If you're among the overwhelmed owners of a house cleaning company, struggling to successfully manage all the details of your company, it's time to find a permanent solution. MaidCentral is your one-stop-app for taking care of every little detail of your day-to-day responsibilities. It will automate repetitive tasks, enhance your company workflow and greatly boost the productivity of your employees. Both your cleaning techs, and your back office staff.
Speaking of productivity, we've incorporated pay for performance capabilities into MaidCentral. You can easily track the performance of all your cleaners and reward them according to the stellar work they're doing. This way, you'll motivate your staff to keep growing as professionals and continue honing their skills day in, day out. What's more, you'll attract new talent by creating a company culture that recognizes and rewards professional excellence.
Get ready to move on from stress and to success
At MaidCentral, we know that it's difficult to introduce significant changes into your business. However, our platform is well worth the initial effort and investment.

1. Try out a demo
Reach out to us today and we'll give you a comprehensive tour of our software and all of its exceptional reporting tools and other cutting-edge capabilities.

2. Set everything up
Our customer support team will help you set our software for your company and train your employees on how to use it to its fullest potential.

3. Get ready for success
Our application grants you access to all the necessary data, allowing you to streamline all your services and adjust your pricing to enhance your profitability.
Don't spend another day in the chaos of business when you can experience the serenity of proper coordination and administration today!
This is what we guarantee
Our pay by performance system capability is only a fraction of what our application is capable of. However, all the functionality in the world would mean little without the necessary transparency and professional integrity we show to our clients. Our software suite has no vague agreements or hidden fees. We're honest and clear about what you're paying for. What's more, we incorporate strong security measures and guarantee that:
Your information is completely protected and secure.
You always retain your rights to all financial information and other vital business data.
You'll receive the necessary weekly trainings and customer support.
You won't be required to sign long-term contracts.
You're able to pay month-by-month and cancel service within 30 days.
You'll make good use of back-office automation and save many hours of work.
Are you running a house cleaning business and looking to increase your profits? MaidCentral software can help you achieve this goal by streamlining your operations and providing valuable insights into your business. In this article, we'll explore how MaidCentral can...
read more
Stop surviving and start thriving today!
We take great pride in developing a software suite specialized for cleaning companies that facilitates daily operations and enhances overall productivity and profitability. Pay by performance is an essential part of what makes our app stand out from the competition. However, rewarding your employees is only the tip of the iceberg. Our app also offers:
Complete automation for repetitive daily tasks.
Real-time job pricing adjustment for enhanced profitability.
Quick and easy follow-ups through improved sales leads.
Enhanced employee efficiency and productivity.
Increased satisfaction of your customers.
Key Performance Indicators are your key to success
Get the numbers you require to keep improving and growing your business