Cleaning Business Software For Success and Profits
You have a vision for your business. We have the way to get you there.   
Free Up Your Time | Make Happier Customers | Improve Employee Productivity
Manage every aspect of your cleaning business with one great app
MaidCentral home cleaning service scheduling and management software is an all-in-one solution that gives you easy control over all facets of your residential cleaning company. From production management and service delivery, to sales and marketing, scheduling and dispatch, quality management, financial data and reporting, staff scheduling, payroll and staff engagement, and revenue production planning, our app is expertly designed and optimized to streamline your operations and deliver a higher standard of quality to your clientele.
Trusted By The Best House Cleaning Companies

Unlock The Power Of A Business Solution Made For Your Business
Hey, don't take our word for it. These cleaning business owners have transformed their business and their time. 
Download The Pay With Confidence Guide
Pay For Performance Drives Profits
It's a war for top talent for your business, and you need to do whatever it takes to make sure you winning.
Are you leaving the success of your cleaning business to chance?
You're pulled in a million directions dealing with: 
Staffing Issues

Customer Complaints

Scheduling (and rescheduling!) jobs

Juggling multiple maid software programs
You're spending too much time trying to figure out what you need to do. Instead, take action on tasks that will move your business forward. MaidCentral brings all of your business tools together in our unified cleaning management software.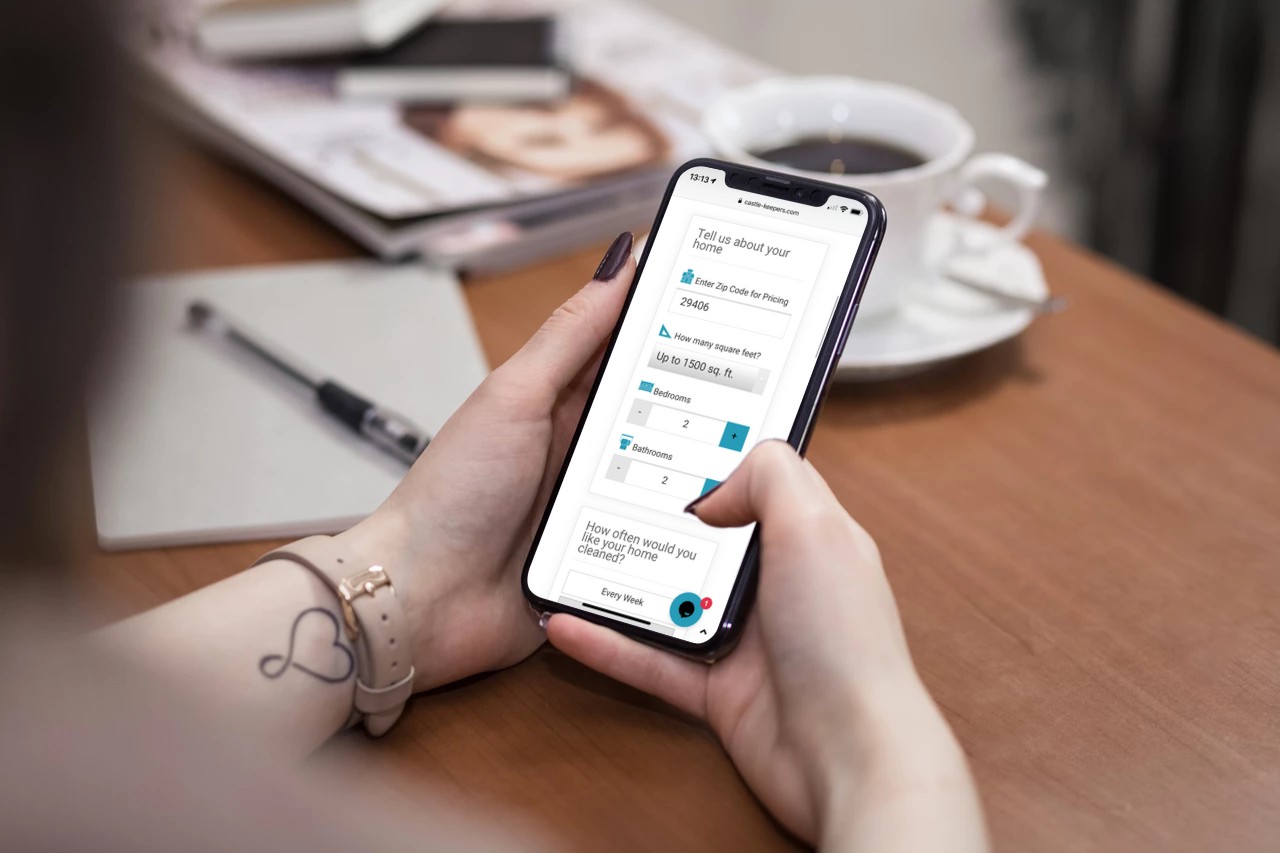 What if there was a way to trade the daily overwhelm for less stress and more success?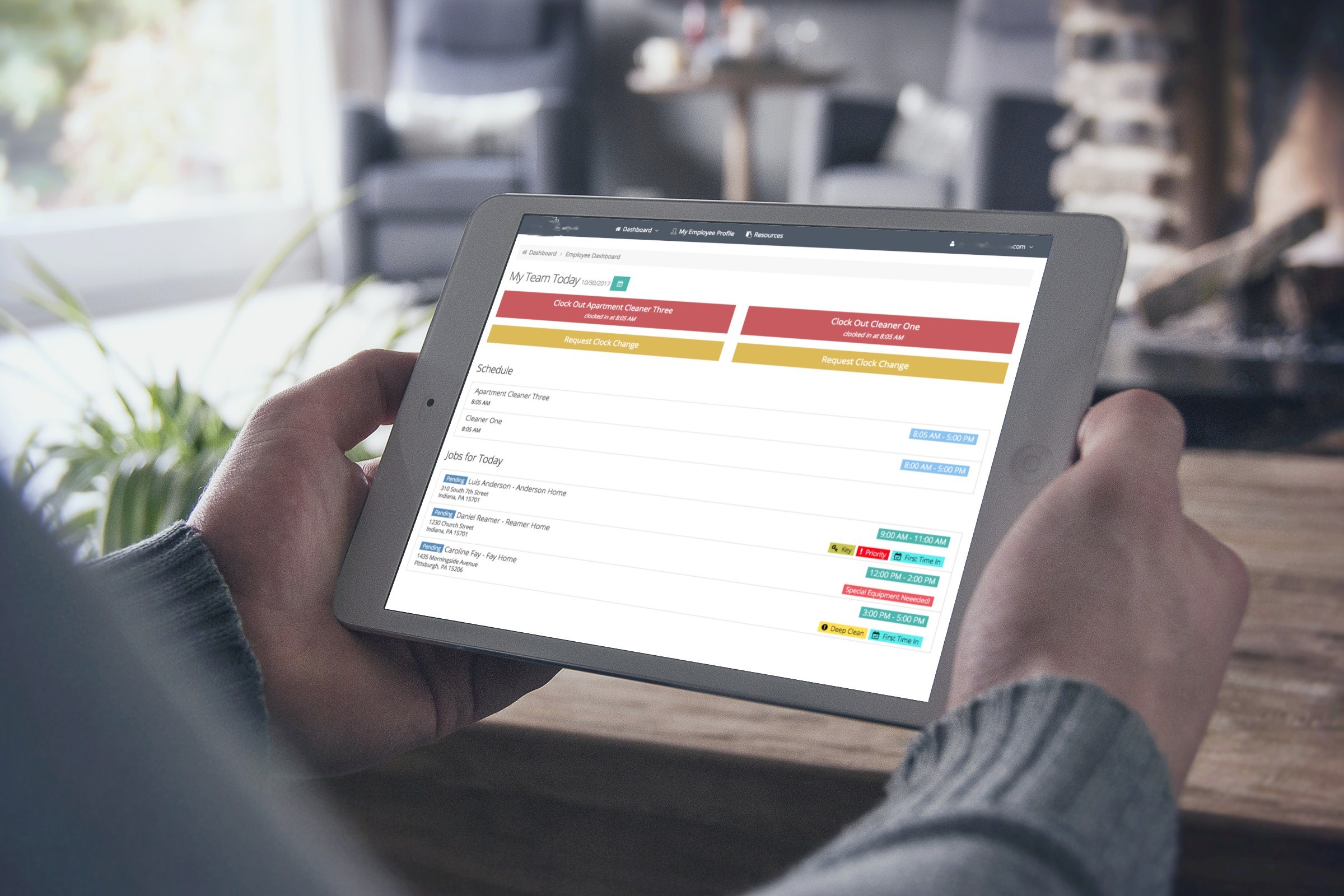 It's Time To Take Control Of Your Business
Many house cleaning business owners are overwhelmed by the day-to-day tasks of running their company. It's why we developed MaidCentral, a home cleaning business software that automates repetitive tasks, improves workflows and boosts productivity so you can build a successful cleaning business.
Founder Tom Stewart is a 25-year industry veteran. His company, Castle Keepers, has performed more than half a million cleanings so he understands the challenges cleaning business owners face and how to move them from stress to success. That is why he developed a maid service software built for the specific needs you face every day.
Convenient & hassle-free
The best cleaning company software is at your fingertips
Job Scheduler
At a glance, view the day's jobs broken down by teams, individual team members, scheduling, and customer information.
Marketing + Sales
Streamline your sales process with online quotes, easy booking, and automatic invoicing. Send emails and text alerts to customers.
Customer Portal
Enable customers to easily update their contact information and payment options. Send automatic scorecard requests after each job.
Employee Engagement
Team members clock in/out via a simple dashboard and complete their job worksheet with notes, photos, or reminders.
Dashboards + Reports
Quickly generate the numbers you need. Then, go a step further and use those numbers to boost your profits.
Ready To Move From Stress To Success? Getting Started is Simple
Here at MaidCentral, we understand that making significant changes to the way your business operates can be difficult. That's why we have created a multi-step system that greatly simplifies the adjustment period and makes incorporating our housekeeping business software into your workflow as easy as 1-2-3.

1. Schedule a demo
We'll give you a tour of the software's features and reporting tools.

2. Set up and customize your software
Our customer success team helps you set up the system and trains your team on how to maximize the software for your business.

3. Build a successful home cleaning business
With access to the right data, you can streamline services and adjust pricing so your cleaning company is making money.
Why spend one more day stuck in the whirlwind of too much to do and not enough time?
The MaidCentral Guarantee
MaidCentral is built on core values of integrity, transparency, and respect toward our clients. With our house cleaning business software, you will never have to worry about hidden fees, vague agreements, and other underhanded business tactics. We guarantee that:
Your data is secure and protected.
You retain all rights to your own data and financial information.
Access customer support, weekly training, and a private Facebook Group for customers.
No long-term contracts. Pay month to month and cancel with 30 days' notice.
The last cleaning management software you need! Eliminate other costly tools.
Back-office automation designed to save you hundreds of hours.
In order to effectively run and grow their businesses, residential cleaning company owners and managers need to be able to correctly assess the value of the service they provide in face of their operating costs. As in many other industries, the recommended way to do...
read more
Go from Surviving to Thriving with MaidCentral
At MaidCentral, we know you want to be a successful cleaning business owner. But you can't leave the future of your company to chance. You need the right tools and house cleaning software to build a thriving business.
● Automate repetitive tasks that take up so much time.
● Adjust job pricing for maximum profitability.
● Follow-up more quickly with sales leads.
● Improve employee efficiencies.
● Increase customer satisfaction.
● Be part of a community of successful business owners
Frequently Asked Questions
How do I manage my cleaning business?
Effective team management and communication is at the heart of any successful housekeeping service. You have to be able to see who is working where and if they're being productive enough to yield the desired results. You also need to make booking, adjusting, and rescheduling service visits as easy as possible for your clientele. Finally, you need to minimize the amount of work hours spent doing back office work such as calculating wages, measuring customer satisfaction levels, preparing accounting records, and more.
Hands down the best way to do all this in the 21st century is by using specialized residential cleaning business management and scheduling software such as MaidCentral. By taking care of your daily tasks through a single unified online platform, you can greatly streamline your processes and open up new avenues for your company's growth.
What is cleaning business software?
The MaidCentral residential cleaning company software is designed to help business owners in the cleaning industry streamline management processes for staff and clients, enable easy batch billing and invoicing, provide simple ways to measure customer satisfaction and improve service, automate their sales and follow-up marketing, and perform a variety of other tasks that are necessary to keep a maid service operating smoothly and efficiently.
In other words, it's a comprehensive digital toolkit that contains all the functionalities you need to start, coordinate, and promote a cleaning business in a convenient and efficient manner. It also serves as a platform your clients can use to manage their bookings, and where your staff can communicate with each other without the need for third party chat apps and other impractical solutions.
Why do I need an online booking system for cleaning service?
Online maid service scheduling has become the accepted standard during the past few years due to its reliability, ease of use, and widespread access to internet-enabled computers and smartphones. If your company doesn't keep up with the times by adapting to the way your clients prefer to do business, it won't be able to grow.
What software programs do I need to start a cleaning business?
Only one! MaidCentral provides a full-service cleaning business scheduling and management software that gives you fine control over every aspect of your company, while also establishing a versatile and user-friendly platform that enables your clients to request quotes, book appointments, and process payments. You can even drive sales by automating the follow-up process through emails, text messages, and reminders for your sales staff.
What to look for in cleaning scheduling software?
Your and your staff's time is too valuable to be spent learning many different environments and spreading your workflow across multiple apps. Your go-to software for cleaning companies should contain everything you need to run a successful business in a single intuitive package. It should also contain all the features your clients need to easily schedule, adjust, rate, and pay for their service visits from the comfort of their homes or while on the go.
The MaidCentral app does all of the above and more. Our software has been built from the ground up using cutting-edge technologies to give you and your customers a smooth experience from start to finish.
How to set up maid software programs?
Here at MaidCentral, we're all about keeping things as convenient for our clients as possible. Our customer support staff will carefully walk you through every step of the setup process in order to easily and seamlessly integrate our housekeeper software into your workflow. We will even provide training for your employees to quickly get them up to speed and show them how to make the most of our app's advanced features.
What software to buy to manage my maid service?
MaidCentral is powerful software built specifically for residential cleaning businesses. We are focussed on best practices for creating more success and profits for our partner companies. We have a track record for building multi-million dollar maid services, and the strength of the user base that is on our platform speaks to that.
Get in touch with us today if you'd like to ask further questions about our app or schedule your one-on-one demo. By enabling you to automate dozens of different tasks in a single convenient location, we will help you eliminate hundreds of work hours, and drive staff and customer satisfaction like never before.
KPIs For Cleaning Business Success
The numbers you need to know to grow your cleaning business.