Cleaning Business Software For Success and Profits
MaidCentral is more than just maid service software. It is enterprise-level software designed to help you scale your cleaning business.
Free Up Your Time | Make Happier Customers | Improve Employee Productivity
Trusted By The Best House Cleaning Companies

Why to invest in MaidCentral? Now that I feel more comfortable I am looking forward to the event in October to get with other users and ask more questions to under more of the layers. ☺Game changer, has given me freedom from the day to day operations of running a maid service. An amazing tool to understand if you are running a profitable business. After jumping in with both feet and making the commitment to using more of the features it was exciting to see how it works. ☹It was a lot of time to set up, I wish they could "dummy it down", they have great customer service, always get an answer fast. Looking forward to more features to be added, but from the many other software programs I have tried and I have tried them all, I am all in on this one.
Service Business Scheduling Software MaidCentral has done 5 main things for our company. 1) Provides the data needed to successfully run a growing company 2) Reduces resources spent on various software options - payroll, quality assurance, routing, dispatching, bidding, CRM, audits, and increases, etc. 3) Centralizes our operations for optimizing time 4) Provides a strong support system for the software, but also our industry 5) Provides access to continuous learning opportunities ☺This software rolls many other business needs into 1 platform. ☹Onboarding is a bit longer and more tedious than simpler, less robust software solutions.
MaidCentral has saved me sooo much time!! It has been a very positive experience. They are open to feedback and fix issues promptly. The software is absolutely the most robust software in the cleaning industry. ☺The reporting is robust in MaidCentral. It has saved me so much time with our office. ☹It is one of the more expensive softwares on the market but well worth the cost.
No More 'Work Arounds' Very happy with everything. It's constantly improving and responding to user feedback. ☺This software understands our business and is set up to best meet our needs and our clients' needs. Before this software, we were used to having to create work arounds' to make the software work for our business. It's such a relief to have software that truly makes our jobs easier. Support is phenomenal as well! ☹The price may be an obstical for if you simply compare on price. If you're looking for value, then this is the software you'll want.
Why I choose MaidCentral My overall experience is a positive one. After using the software for over a year, I'm happy we made the switch. ☺It's growing as I grow! My field staff find it very user friendly. Overall it does save my office staff time with their day to day tasks. ☹The price! I find it is very expensive since we're the ones helping to develop this software. It's hard to keep up with the week to week changes.
Great software for home cleaning companies The support is great and they are adding new features all the time at no extra cost. ☺This was built by a large home cleaning company and you can tell just by looking at the scheduling screen with the alerts to let you know if the client is scheduled with the wrong team or the time slot. ☹The software has a lot of features and manages nearly all parts of your business. As a result it is a task to get it up and running but only because it is so all encompassing.
Efficient and effective The MaidCentral Team is always there making sure you have the best experience. They listen to your concerns and feedback. They also have multiple training opportunities to help you learn how to best use the software. ☺This program saves us time and money. My company no longer needs multiple software because MaidCentral has many features to address our many needs. MaidCentral makes scheduling a breeze, and communication with clients has never been easier. The detailed reports inside MaidCentral show us KPIs that help us make critical decisions. We have become more efficient and profitable since using MaidCentral. ☹The quoting tool. I'm looking forward to the new version that's will be available soon.
Life Changing Software My experience with MaidCentral has been great. It is user friendly, support is great, and my staff loves it too. ☺This software makes it easy for me to run my day to day operations, stay organized, and keep track of our data. Every process from sales, to scheduling, to payroll makes things extremely easy. ☹There is really nothing that I dont love about MaidCentral
MaidCentral: Powerful in many ways! Time is money! MaidCentral saves time in scheduling and helping improve efficiency and productivity. ☺MaidCentral has graphics in the scheduling function that make it easy to understand job requirements and job status at a glance. Communicating is very easy with employees and clients as email and text capabilities exist within the software. Data collection is unbelievable. Because if the data collection capabilities, you have may ways to look at performance in various areas to help guide your areas of improvement. ☹There is nothing not to like about MaidCentral. While no software can do everything, MaidCentral comes close. There are new enhancements and improvements being rolled out all the time.
A Full Orbed, Professional Program For Managing Your Cleaning Company Overall our experience has been very positive. I feel like there might be some ways to make things a bit more user friendly in the interfacing, and in the onboarding process. Still, MC is replacing several programs for us, and is doing more automated heavy lifting than before. It allowed us to trim out an extra position in our office staff when COVID tightened our budget, without making us feel the crunch of a missing dispatcher. ☺Being able to have my teams' daily job status, reviews, routing and more at a glance is incredibly valuable. MC makes it incredibly easy to keep a pulse on what's going on in the field without having to track teams down through phone calls. It also makes it incredibly easy to sort out potential routing issues ahead of time at a quick glance. And, of course, the customer service is incredible, with the team often getting back to us within an hour or so in the chat window. Our teams were able to learn to use the team facing side very quickly. ☹Getting started is a bit complex, especially if you are battling long term bad habits in the way information was kept before. And, while the customer service is ace, and there are loads of videos and help documents available, it can be difficult to tech out some problems that may crop up. For example, we still seem to be having issues with automated service reminders, even though we have followed all of the steps in the documentation. Some aspects of the UI are not immediately intuitive, which can be especially difficult to explain to others when you are the token millennial in the office. Spanish modes would be INCREDIBLY helpful, as I know we are not the only cleaning company with a large segment of people with English as their second language.
Download The Pay With Confidence Guide
Pay For Performance Drives Profits
It's a war for top talent for your business, and you need to do whatever it takes to make sure you winning. Download our free Pay With Confidence Workbook to learn how you can implement pay-for-performance structures in your home cleaning business that help align your cleaning techs and your company.
Are you leaving the success of your cleaning business to chance?
You're pulled in a million directions dealing with: 
Staffing Issues

Customer Complaints

Scheduling (and rescheduling!) jobs

Juggling multiple pieces of software
You're spending too much time trying to figure out what you need to do. Instead, take action on tasks that will move your business forward. MaidCentral brings all of your business tools together in one unified cleaning management app.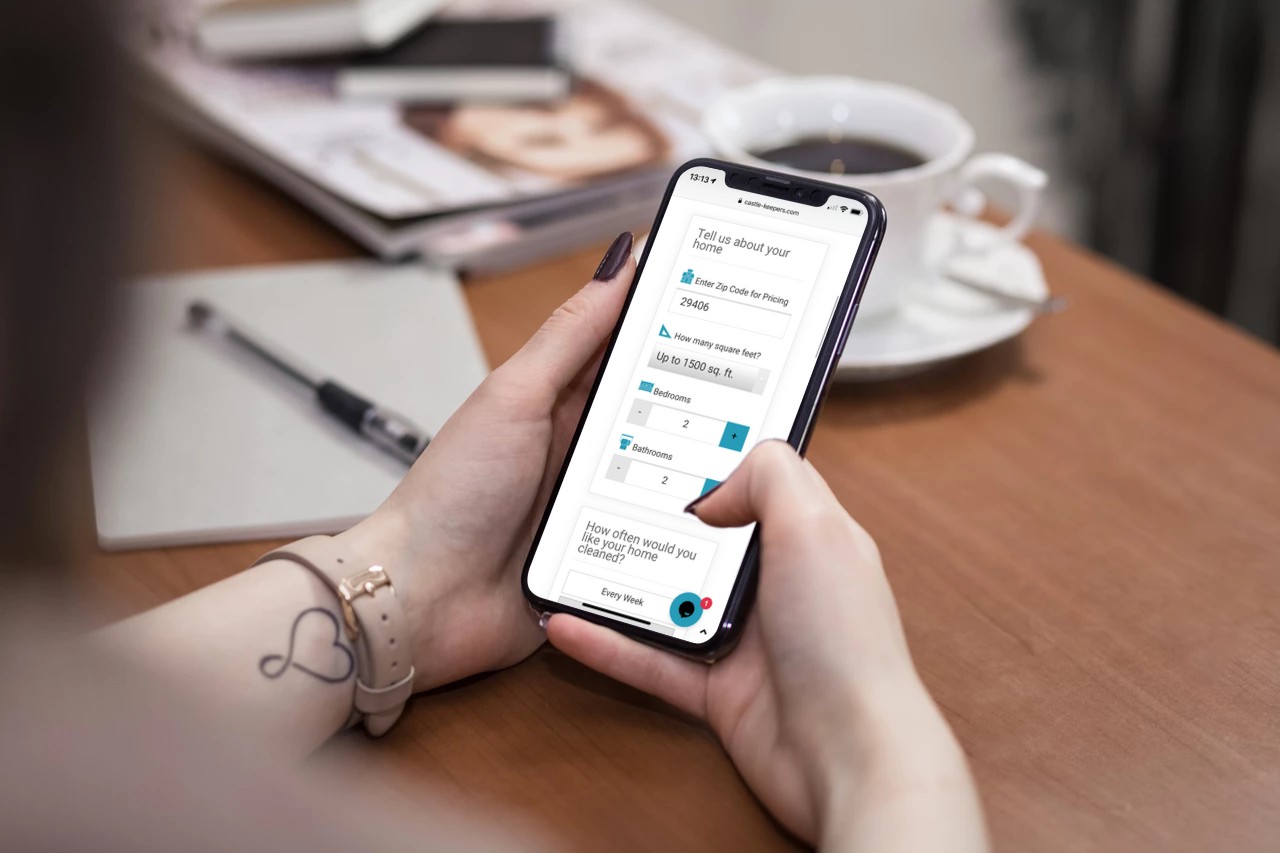 What if there was a way to trade the daily overwhelm for less stress and more success?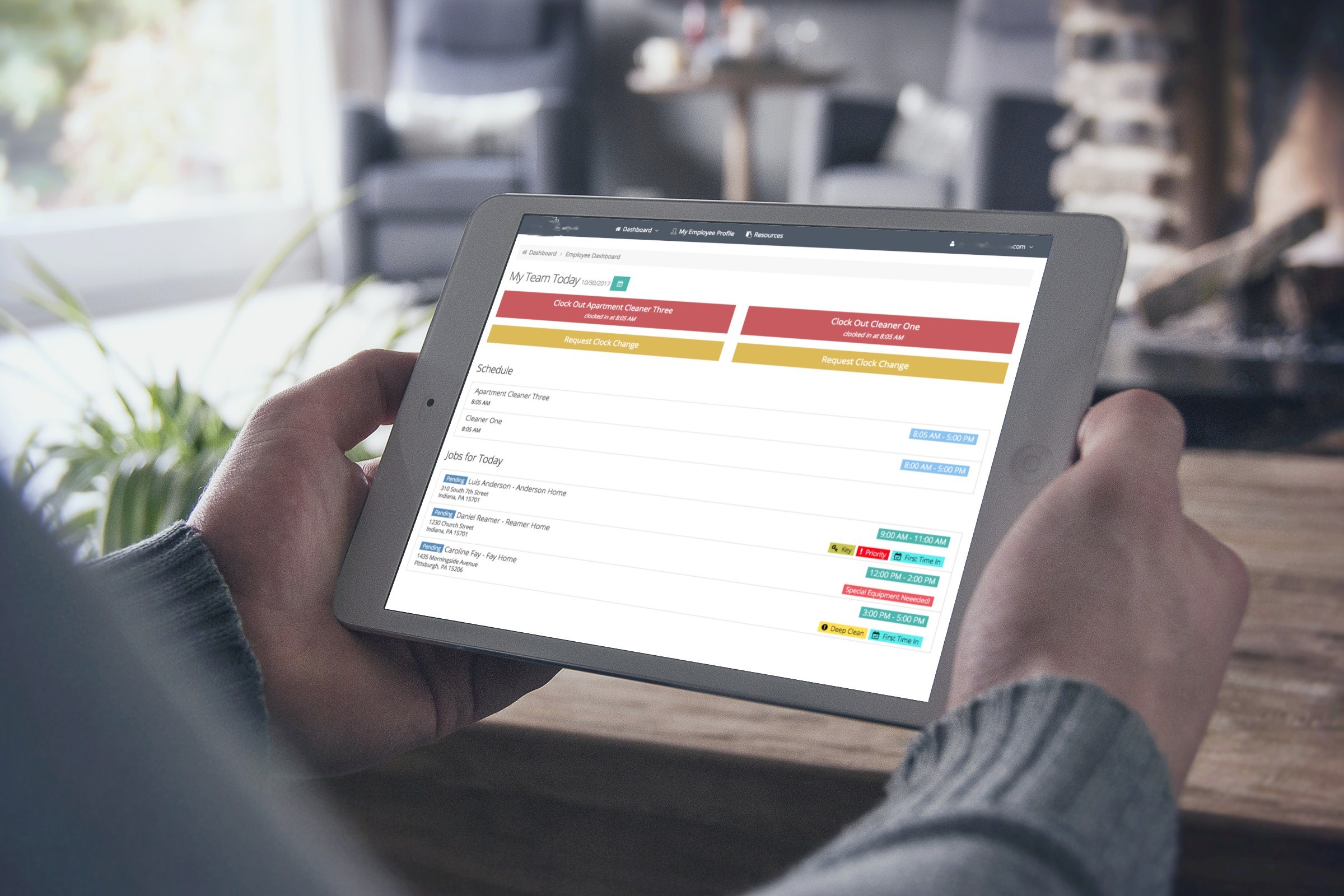 It's Time To Take Control Of Your Business
Many house cleaning business owners are overwhelmed by the day-to-day tasks of running their business. It's why we developed MaidCentral, software that automates repetitive tasks, improves workflows and boosts productivity so you build a successful cleaning business. 
Founder Tom Stewart is a 25-year industry veteran. His company, Castle Keepers, has performed more than half a million cleanings so he understands the challenges cleaning business owners face and how to move them from stress to success. That is why he developed a maid service software built for the specific needs you face every day. 
AT YOUR FINGERTIPS
The Tools You Need For Business Success
Job Scheduler
At a glance, view the day's jobs broken down by teams, individual team members, job time, and customer information. 
Marketing + Sales
Streamline your sales process with online quotes, instant scheduling and invoicing. Send emails and text alerts to customers.
Customer Portal
Customers can easily update their contact information and payment options. Send automatic scorecard requests after each job
Employee Engagement
Team members clock in/out via a simple dashboard and complete their job worksheet with notes, photos or reminders.
Dashboards + Reports
Quickly generate the numbers you need. Then, go a step further and use those numbers to make a greater profit.
Unlock The Power Of A Business Solution Made For Your Business
Hey, don't take our word for it. These cleaning business owners have transformed their business and their time. 
Ready To Move From Stress To Success? Getting Started is Simple

1. Schedule a demo
We'll give you a tour of the software's features and reporting tools

2. Set up and customize your software
Our customer success team helps you set up the system and trains your team on how to maximize the software for your business

3. Build a successful home cleaning business
With access to the right data, you can streamline services and adjust pricing so your business is making money.
Why spend one more day stuck in the whirlwind of too much to do and not enough time?
The MaidCentral Guarantee
Your data is secure and protected.
You retain all rights to your own data and financial information.
Access customer support, weekly training, and a private Facebook Group for customers. 
No long-term contracts. Pay month to month and cancel with 30 days' notice.
The last software you need! Eliminate other costly tools.
Back-office automation designed to save you hundreds of hours.
https://youtu.be/hoBJiccrNbM If your residential cleaning business is not adapting to the way customers want to do business, you will struggle to grow. Online booking has become one of the major trends over the past few years. Adapting to cleaning customers who want...
read more
Go from Surviving to Thriving with MaidCentral
At MaidCentral, we know you want to be a successful cleaning business owner. But you can't leave the success of your business to chance. You need the right tools and house cleaning software to build a thriving business.
● Automate repetitive tasks that take up so much time.
● Adjust job pricing for maximum profitability.
● Follow-up more quickly with sales leads.
● Improve employee efficiencies.
● Increase customer satisfaction.
● Be part of a community of successful business owners
KPIs For Cleaning Business Success
The numbers you need to know to grow your cleaning business.