Cleaning Business Software For Success and Profits
You have a vision for your business.
We have the way to get you there.
Software Developed By Cleaning Business Owners For Cleaning Business Owners!
REFER A FRIEND

& Get $500!
REFER A FRIEND
& Get $500!
Manage every aspect of your cleaning business with one great software!
MaidCentral home cleaning service scheduling and management software is an all-in-one solution that gives you easy control over all facets of your residential cleaning company. From production management and service delivery, to sales and marketing, scheduling and dispatch, quality management, financial data and reporting, staff scheduling, payroll and staff engagement, and revenue production planning, our software is expertly designed and optimized to streamline your operations and deliver a higher standard of quality to your clientele.
Trusted by some of the best cleaning companies


The king of cleaning applications This has solved our business solutions of instead of having multiple applications it's all done in one now which makes it such a better service to offer to any and all cleaning services ☺This software is hands the best software if you own a cleaning business it allows the ease of use to be able to use your abilities to the best possible. This software allows your scheduling and invoicing all in one application instead of multiple different apps. ☹The only downside I would have about this software is there not currently a application you can download to your phone everything is done from the browser.
Best Scheduling Software for Cleaning Companies Phenomenal. ☺The reporting is better than what I have seen anywhere else. It is robust enough to allow you do drill down into your numbers and drive up profit. ☹This is not a simple software like Jobber, that you can learn in a couple of days. It is so highly advanced and customizable that you must put in a little bit of time to learn how to use it effectively.
Amazing softwares I love Maid Central and I love working with the Maid Central Team. The entire team is extremely knowledgeable and they care about the success of your company. ☺First of all Maid Central is extremely user friendly and offers exactly what we are looking for in a software. There are many favorite things in Maid Central; we love the scheduling, the reports, instant invoicing and credit card charging, great for employees in the field, they can clearly see the job notes, add pictures to the clients profile. We can clearly see job cost, the average job cost if we send different people. AND my favorite part is price increase or price adjustment. Increasing prices it use to take us weeks! Now it took us 30 min to increase 74 clients. ☹It has so much to offer that I have not learned everything I need to know.
Powerful While difficult at first, I love this software. ☺Maid Central REPORTS are the bomb! Online quoting and booking, templates, the data base for clients and field staff are all very well done. ☹Can be hard to understand and set up if not tech savvy, that goes for any of the more powerful software. Their customer support is the best I have ever encountered in all other software we have used.
Love Scheduling Now!!! ☺The master schedule makes things so much easier. ☹There seem to be some strange glitches sometimes. When you bring it the MC team's attention, they are always right on it though!
Robust Software that does it all! I love the support team and I am super excited for the in-person live events to dive in deeper and learn more! ☺The process to integrate was lengthy but support was with us every step of the way. I am so glad I did it at the size I was at vs. waiting until I had more clients and staff. The software is incredibly robust and I don't feel I am tapping into all it as to offer just yet. I learn something new that the software can track or manage for me almost weekly. The professionalism in the eyes of my team and clients increased 10 fold. The ability to increases rates saved me 10's of hours alone! The company releases upates and build outs weekly - I am always impressed with the functionalities they add! ☹At times I can feel overwhelmed with the number of reports and settings we can tweak but it is also why I like the software so much. I have ample opportunity to manage KPI's.
Ease of use ☺I love the reports! Especially the Employee stats. This feature helps me so much at the end of the month to see which employees are in need extra support and also to Bonus employees that are going above & beyond! ☹Since working with this software, any concerns have been fixed thus far. They continue to add features while also correcting any concerns that may arrise.
Maid Central keeps our organization on track MaidCentral keeps our company information all in one program instead of multiple programs. From Quoting, Scheduling, Billing, Invoicing, Staff and Client information- all in one place. ☺The most impactful part of MaidCentral is the live feature. We know what is going on no matter who is using the program. Updates are immediate so the office staff can see where all staff is and when the job is completed. ☹Integration was not complicated. Having an audit trail to see who is making changes in the program within our company is something we would like to see.
Love Maid Central!!! Its been great they get better every month ☺All the features in one program before we use different programs for notification and PTO and texting with clients and employees, quoting its great ☹The phone app is not easy to use when not in the office
After 4 attempts, we finally found the Perfect service software. Overall I am very happy with the software. They are working hard on adding functionality and they take our feedback to help improve the software. Each week they have updates to the software so it just seems to keep getting better and better. ☺This was developed by a maid service owner so it works perfectly in my business. I love the reporting and the ability to find inefficiencies in our process. I use it most to make sure the teams are being productive and getting out of homes on time as well as their efficiency which is travel time. I have been able to cut our labor costs from 50% to 40% which is huge! I like that most functions are built into the system like reminder email and texting and clients ability to login to see their invoicing. ☹Onboarding is always difficult with any software. Importing a large database of clients and getting the office used to use it took some time. But the training was well thought out and their approach on weekly meetings with us and giving us bite sized tasks made it doable. The price is on the higher side of most systems. That being said we are able to check for clients that are being undercharged and within seconds send them an automated rate adjustment. So in 6 months I have increased our revenue $100,000 a year which is a ten fold the cost of the software.
The #1 Cleaning Business Software!
But don't take our word for it…Listen to what these cleaning business owners have to say about MaidCentral!
Increased Net Profits $100K In 4 Months
"It's been amazing. I don't even think it's the same business." Chad Henley of NaturalCare cleaning shares the transformation that MaidCentral has helped him create in his residential cleaning business.
Total revenue is up 37%. Their bill rate has increased by 25%. Direct labor costs have been decreased from 50% to 40%. Average employee wages from $15 per hour to nearly $20 per hour, even while decreasing his direct labor as a percentage of revenue. The results they have achieved are incredible, but not uncommon for new MaidCentral partners.
Chad Henley– Owner of Naturalcare Cleaning Service
Added $42K In Revenue With One Automation
"It's just been amazing. I have been so relieved every day that we made the switch. I found the staff adapted really quickly. Everything feels very easy and logical. Our staff adapted to the software so much quicker than any other software we have ever tried. $42K is the difference we made in just automated rate increases, just by taking advantage of the rate increase feature that is in MaidCentral." Sherry Weavers of 3 Little Birds Cleaning Service talks about how glad she is to have switched to MaidCentral, how easy it was for her staff to adapt, and how one simple automation increased revenue by $42K.
Sherry Weavers– Owner of 3 Little Birds Cleaning Service
Improve Customer Retention & Reduce Employee Turnover
MaidCentral software can streamline cleaning businesses and enhance employee satisfaction. CEO Joe Walsh of Greenclean, Portland, used the software to manage scheduling, routing and payroll efficiently. MaidCentral's user-friendly interface and robust features make processing payroll by job and communicating with customers easy. The software's Customer Efficiency Map and Schedule Efficiency tool ensure quick and easy determination of the most efficient route between jobs and quick adjustments on the fly. Employee satisfaction and retention have also improved due to the software's ease of use. Since implementing MaidCentral, Greenclean has seen a 33% increase in customer lifetime value due to the software's feedback tools.
Joe Walsh – CEO of Green Clean Maine
Increased Operational Efficiency +22%
"The biggest impact in my business is the increased operational efficiencies. We have increased operational efficiency from 78% to nearly 100%. So every hour we are working is billable time."
Chris Willatt of Alpine Maids discusses how he has used the tools in MaidCentral to increase operational efficiency by 22%. For most cleaning businesses that would mean that they could bill an extra $75 per employee per day or more. For a large cleaning company that could be thousands of extra revenue per day, and hundreds of thousands per year.
Chris Willatt – Owner Alpine Maids
Are you leaving the success of your cleaning business to chance?
You're pulled in a million directions dealing with
Staffing Issues
Customer Complaints
Scheduling (and rescheduling!) jobs
Juggling multiple maid software programs
You're spending too much time trying to figure out what you need to do. Instead, take action on tasks that will move your business forward. MaidCentral brings all of your business tools together in our unified cleaning management software.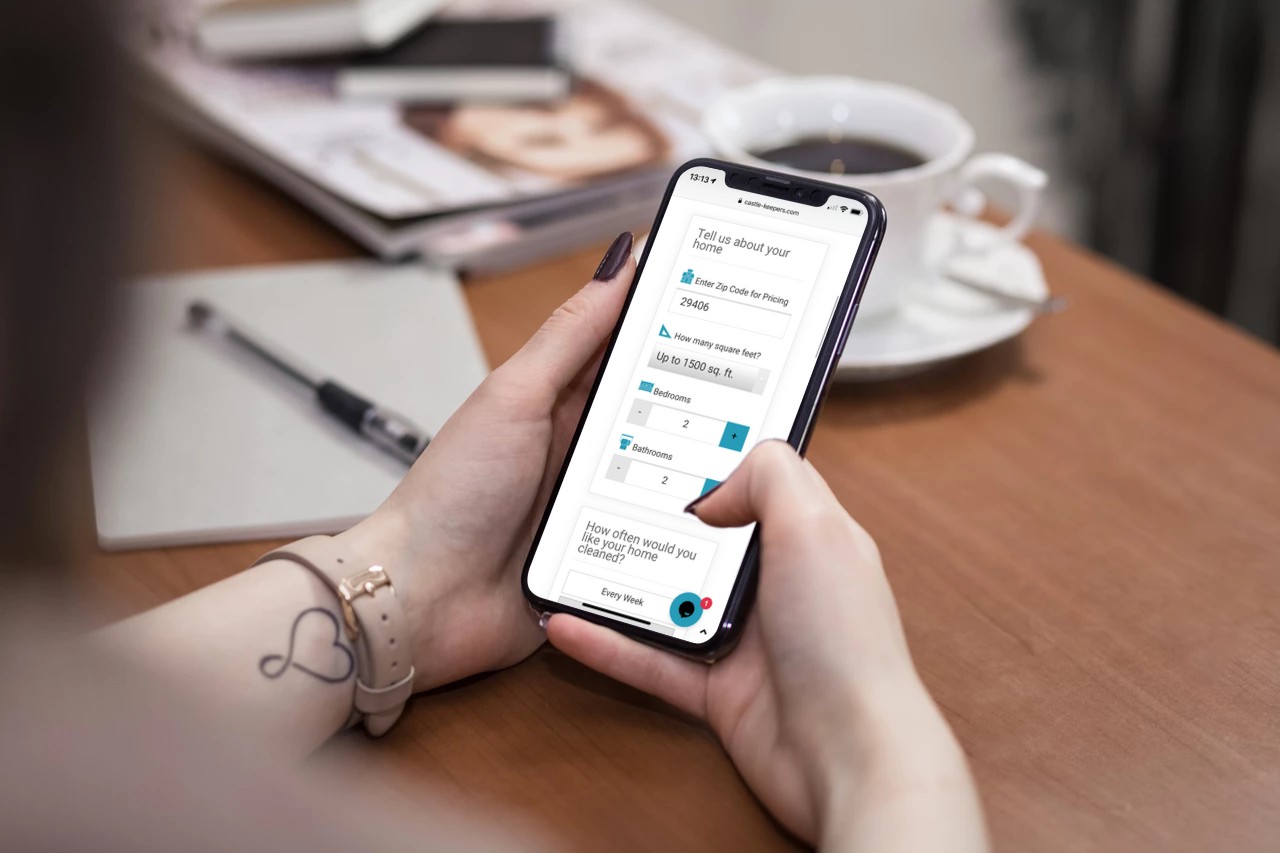 What if there was a way to trade the daily overwhelm for less stress and more success?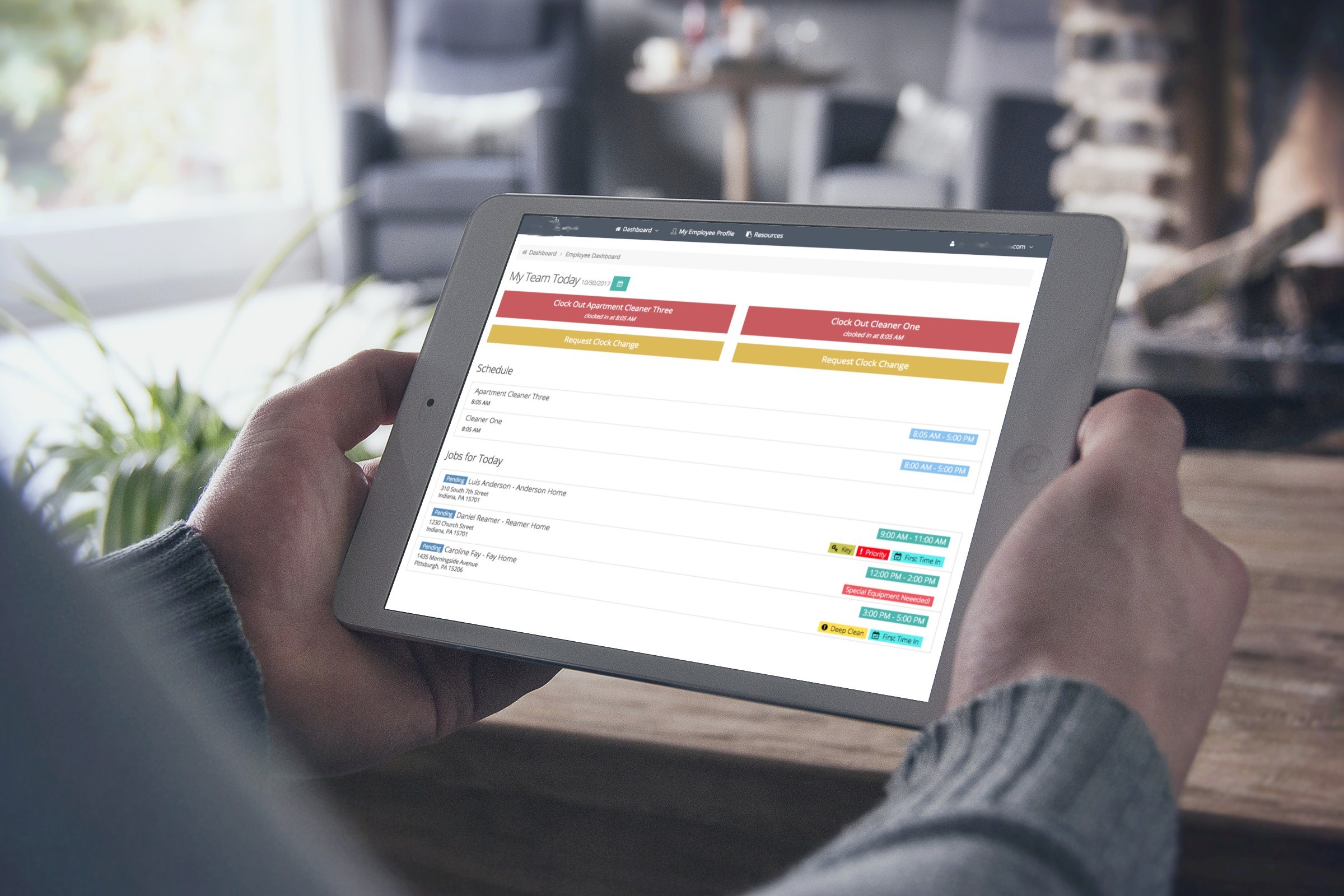 It's Time To Take Control Of Your Business
Many house cleaning business owners are overwhelmed by the day-to-day tasks of running their company. It's why we developed MaidCentral, a home cleaning business software that automates repetitive tasks, improves workflows and boosts productivity so you can build a successful cleaning business.
Founder Tom Stewart is a 25-year industry veteran. His company, Castle Keepers, has performed more than half a million cleanings so he understands the challenges cleaning business owners face and how to move them from stress to success. That is why he developed a maid service software built for the specific needs you face every day.
Convenient & hassle-free
The best cleaning company software is at your fingertips
Job Scheduler
At a glance, view the day's jobs broken down by teams, individual team members, scheduling, and customer information.
Marketing + Sales
Streamline your sales process with online quotes, easy booking, and automatic invoicing. Send emails and text alerts to customers.
Customer Portal
Enable customers to easily update their contact information and payment options. Send automatic scorecard requests after each job.
Employee Engagement
Team members clock in/out via a simple dashboard and complete their job worksheet with notes, photos, or reminders.
Dashboards + Reports
Quickly generate the numbers you need. Then, go a step further and use those numbers to boost your profits.
Ready To Move From Stress To Success? Getting Started is Simple
Here at MaidCentral, we understand that making significant changes to the way your business operates can be difficult. That's why we have created a multi-step system that greatly simplifies the adjustment period and makes incorporating our housekeeping business software into your workflowas easy as 1-2-3.

1. Schedule a demo
We'll give you a tour of the software's features and reporting tools.

2. Set up and customize your software
Our customer success team helps you set up the system and trains your team on how to maximize the software for your business.

3. Build a successful home cleaning business
With access to the right data, you can streamline services and adjust pricing so your cleaning company is making money.
Why spend one more day stuck in the whirlwind of too much to do and not enough time?
The MaidCentral Guarantee
MaidCentral is built on core values of integrity, transparency, and respect toward our clients. With our house cleaning business software, you will never have to worry about hidden fees, vague agreements, and other underhanded business tactics. We guarantee that:
Your data is secure and protected.
You retain all rights to your own data and financial information.
Access customer support, weekly training, and a private Facebook Group for customers.
No long-term contracts. Pay month to month and cancel with 30 days' notice.
The last cleaning management software you need! Eliminate other costly tools.
Back-office automation designed to save you hundreds of hours.
Are you running a house cleaning business and looking to increase your profits? MaidCentral software can help you achieve this goal by streamlining your operations and providing valuable insights into your business. In this article, we'll explore how MaidCentral can...
read more
Go from Surviving to Thriving with MaidCentral
At MaidCentral, we know you want to be a successful cleaning business owner. But you can't leave the future of your company to chance. You need the right tools and house cleaning software to build a thriving business.
Automate repetitive tasks that take up so much time./li>
Adjust job pricing for maximum profitability.
Follow-up more quickly with sales leads.
Improve employee efficiencies.
Increase customer satisfaction.
Be part of a community of successful business owners
Frequently Asked Questions
How do I manage my cleaning business?
Effective team management and communication is at the heart of any successful housekeeping service. You have to be able to see who is working where and if they're being productive enough to yield the desired results. You also need to make booking, adjusting, and rescheduling service visits as easy as possible for your clientele. Finally, you need to minimize the amount of work hours spent doing back office work such as calculating wages, measuring customer satisfaction levels, preparing accounting records, and more.
Hands down the best way to do all this in the 21st century is by using specialized residential cleaning business managementand scheduling software such as MaidCentral. By taking care of your daily tasks through a single unified online platform, you can greatly streamline your processes and open up new avenues for your company's growth.
What is cleaning business software?
The MaidCentral residential cleaning company software is designed to help business owners in the cleaning industry streamline management processes for staff and clients, enable easy batch billing and invoicing, provide simple ways to measure customer satisfaction and improve service, automate their sales and follow-up marketing, and perform a variety of other tasks that are necessary to keep a maid service operating smoothly and efficiently.
In other words, it's a comprehensive digital toolkit that contains all the functionalities you need to start, coordinate, and promote a cleaning business in a convenient and efficient manner. It also serves as a platform your clients can use to manage their bookings, and where your staff can communicate with each other without the need for third party chat apps and other impractical solutions.
Why do I need an online booking system for cleaning service?
Online maid service scheduling has become the accepted standard during the past few years due to its reliability, ease of use, and widespread access to internet-enabled computers and smartphones. If your company doesn't keep up with the times by adapting to the way your clients prefer to do business, it won't be able to grow.
What software programs do I need to start a cleaning business?
Only one! MaidCentral provides a full-service cleaning business scheduling andmanagement software that gives you fine control over every aspect of your company, while also establishing a versatile and user-friendly platform that enables your clients to request quotes, book appointments, and process payments. You can even drive sales by automating the follow-up process through emails, text messages, and reminders for your sales staff.
What to look for in cleaning scheduling software?
Your and your staff's time is too valuable to be spent learning many different environments and spreading your workflow across multiple apps. Your go-to software for cleaning companies should contain everything you need to run a successful business in a single intuitive package. It should also contain all the features your clients need to easily schedule, adjust, rate, and pay for their service visits from the comfort of their homes or while on the go.
The MaidCentral app does all of the above and more. Our software has been built from the ground up using cutting-edge technologies to give you and your customers a smooth experience from start to finish.
How to set up maid software programs?
Here at MaidCentral, we're all about keeping things as convenient for our clients as possible. Our customer support staff will carefully walk you through every step of the setup process in order to easily and seamlessly integrate our housekeeper software into your workflow. We will even provide training for your employees to quickly get them up to speed and show them how to make the most of our software's advanced features.
What software to buy to manage my maid service?
MaidCentral is powerful software rebuilt specifically for residential cleaning businesses. We are focused on best practices for creating more success and profits for our partner companies. We have a track record for building multi-million dollar maid services, and the strength of the user base that is on our platform speaks to that.
Get in touch with us today if you'd like to ask further questions about our software or schedule your one-on-one demo. By enabling you to automate dozens of different tasks in a single convenient location, we will help you eliminate hundreds of work hours, and drive staff and customer satisfaction like never before.