Cutting-Edge
Online Booking System for Cleaning Services
We have a modern, versatile, and powerful online cleaning service booking and quoting system that allows your customers to easily and seamlessly schedule their appointments. We integrated this system with our real time availability software to bring you a unified solution that collects leads and customer information you can use to grow your business further.
Two types for forms for fine-tuning your online requests
We have two separate online forms within our maid service app – a lead capture form and an online booking form for your cleaning service. This way, you get to choose which of these forms you want to place on which pages on your website, and create a more intuitive and easy-to-use portal for your customers. Also, the use of two separate forms will further increase customer engagement and provide a choice to each prospective client.
An intuitive request an estimate form for acquiring information
Our company has integrated advanced online scheduling into our software that brings the following benefits to your business and customers:
Speed
Our online cleaning service booking gives your customers a fast and efficient way to schedule their services online.
Ease
Our platform is very intuitive and extremely easy to use, allowing your clients to book a cleaning with ease.
Data
Our lead tracking forms allow you to automatically gather invaluable user data and follow-up with different methods.
Satisfaction
The speed and the ease of use of our online scheduling platform will greatly boost your customer satisfaction.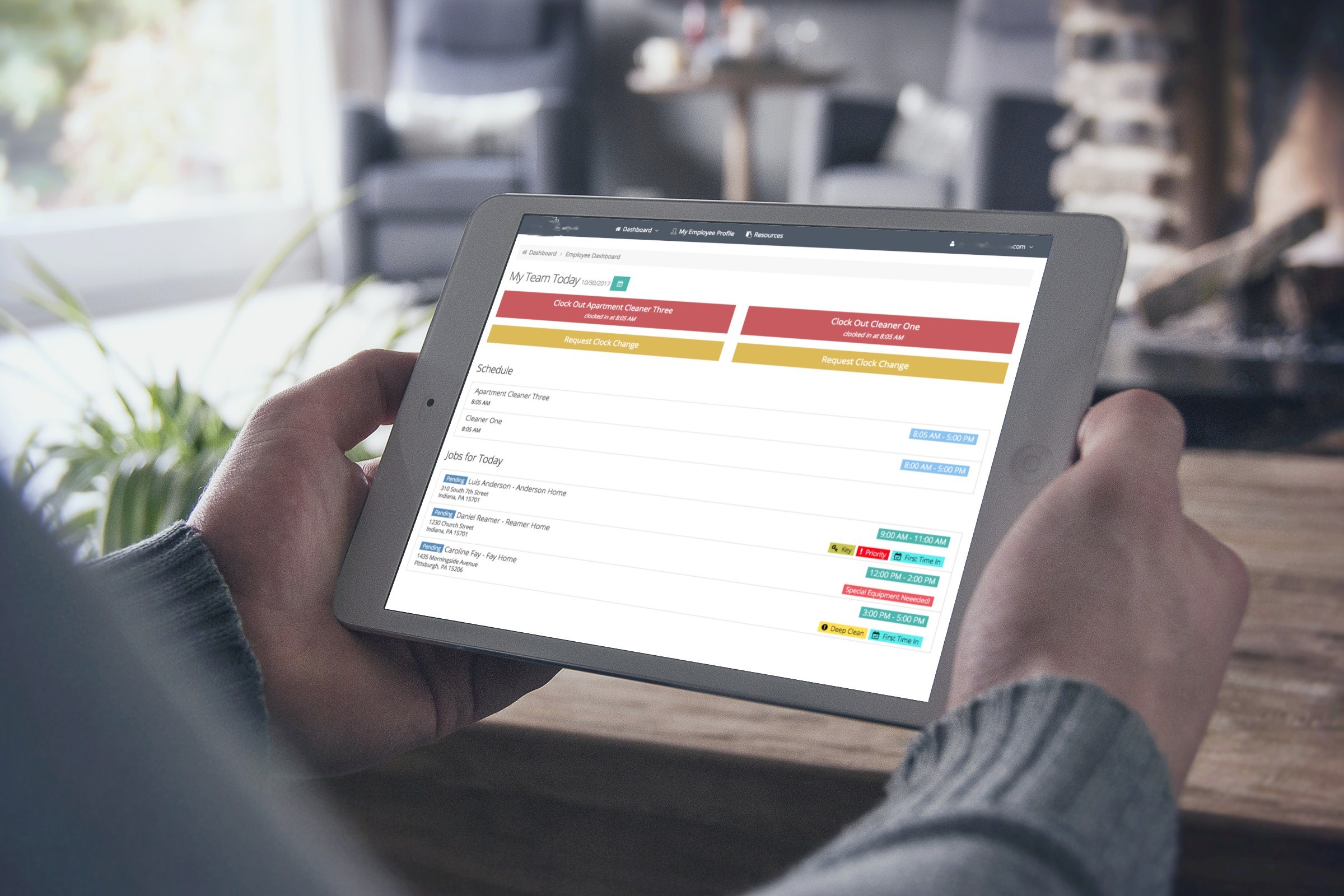 Implement an advanced online booking form for easy scheduling
Our cleaning service booking form combines easy customer interaction, up-to-date pricing information of different services, and real-time availability of your business. When customers interact with your website, they either create a lead through the request an estimate form, or schedule an appointment based on the above parameters. This way, you bring them current information in a streamlined way while you receive important data for further follow-up.
It's time to up your scheduling game!
MaidCentral offers an easy way for your customers to book a cleaning service online with an advanced scheduling form. This will shorten booking times, provide a better customer experience, and increase their satisfaction with your company.
Easy-to-use and intuitive forms for your clients' satisfaction
We offer intuitive and easy-to-use online cleaning service booking forms and lead capture forms. Our platform brings seamless appointment scheduling and quote requests that allow you to collect leads. Not all customers will immediately sign up for your services, making lead capturing a vital aspect of growing your customer base. However, if they are ready to book with your company, our real time information integration allows them to easily pick an available slot.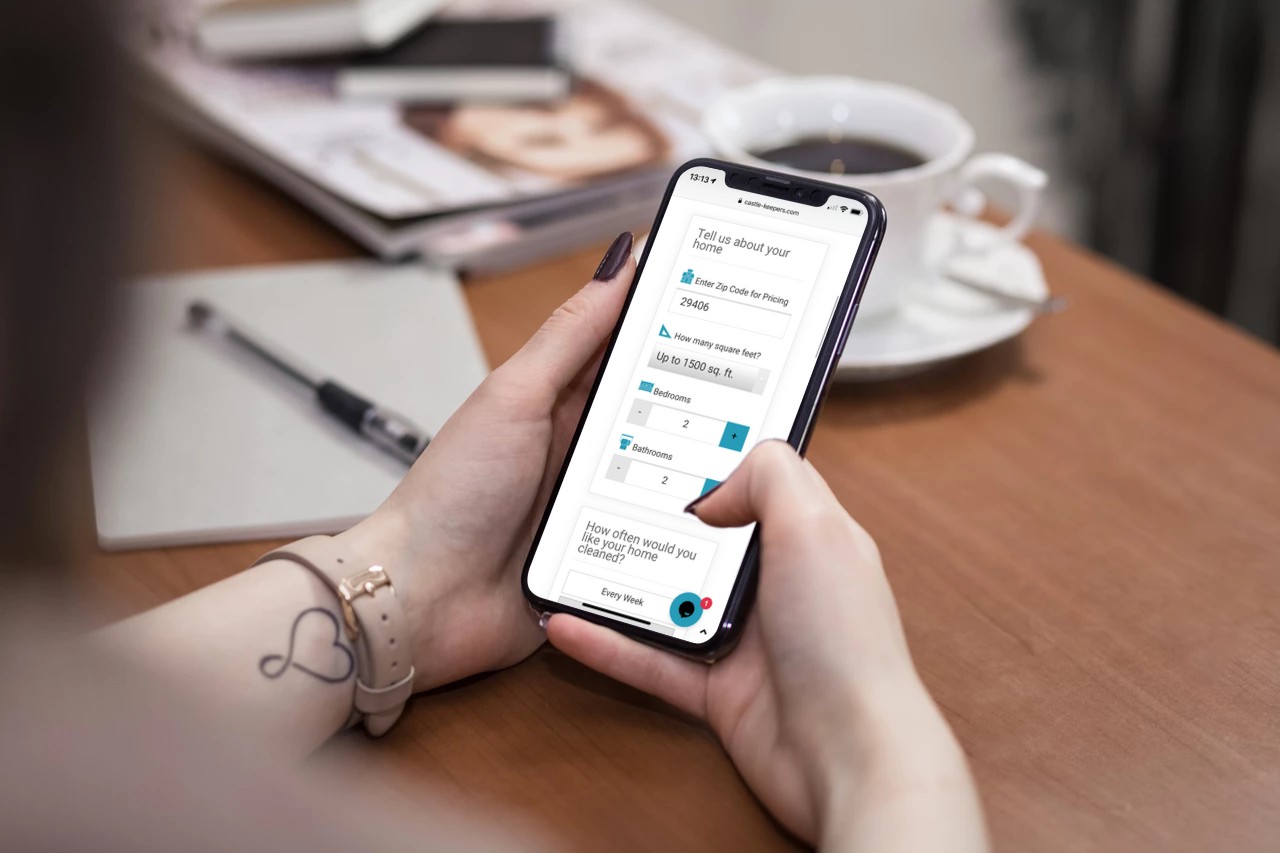 At MaidCentral, we understand the importance of giving your customers an intuitive experience when requesting a quote or booking your services. That's why both our lead capture and
online cleaning service scheduling forms
feature a modern and slick interface that allow your customers to easily find their way around its advanced features. This is how we ensure minimal time spent on filling out the forms, maximizing efficiency and preventing potential clients from getting deterred by overcomplicated software.
Personalized booking through parameter customization
Our software allows your customers to book a cleaning service online by fine-tuning their preferences for a completely tailored service. They are free to customize their input by selecting one of your packages, choosing available add-ons, preferred time of service, and providing their service area. What's more, they can incorporate extra instructions on their pets, home access, directions, and other vital information. You can even enhance your form by incorporating variable-rate booking based on request urgency, date and time flexibility, and other factors.
Quick & easy online booking for data collection & client happiness

Choose your automated follow-up process through our app
Our booking system for cleaning services comes together with powerful marketing automation tools that can help close the sale for you. You can follow-up your clients' request forms with detailed quotes that outline your company's services. From that initial email, your customers can click the "book now" button to see their quote populated with all of the details they previously provided. They will not need to make additional inputs other than their credit card numbers and the date they require your service. This way, your clients get a one-click way to book a service.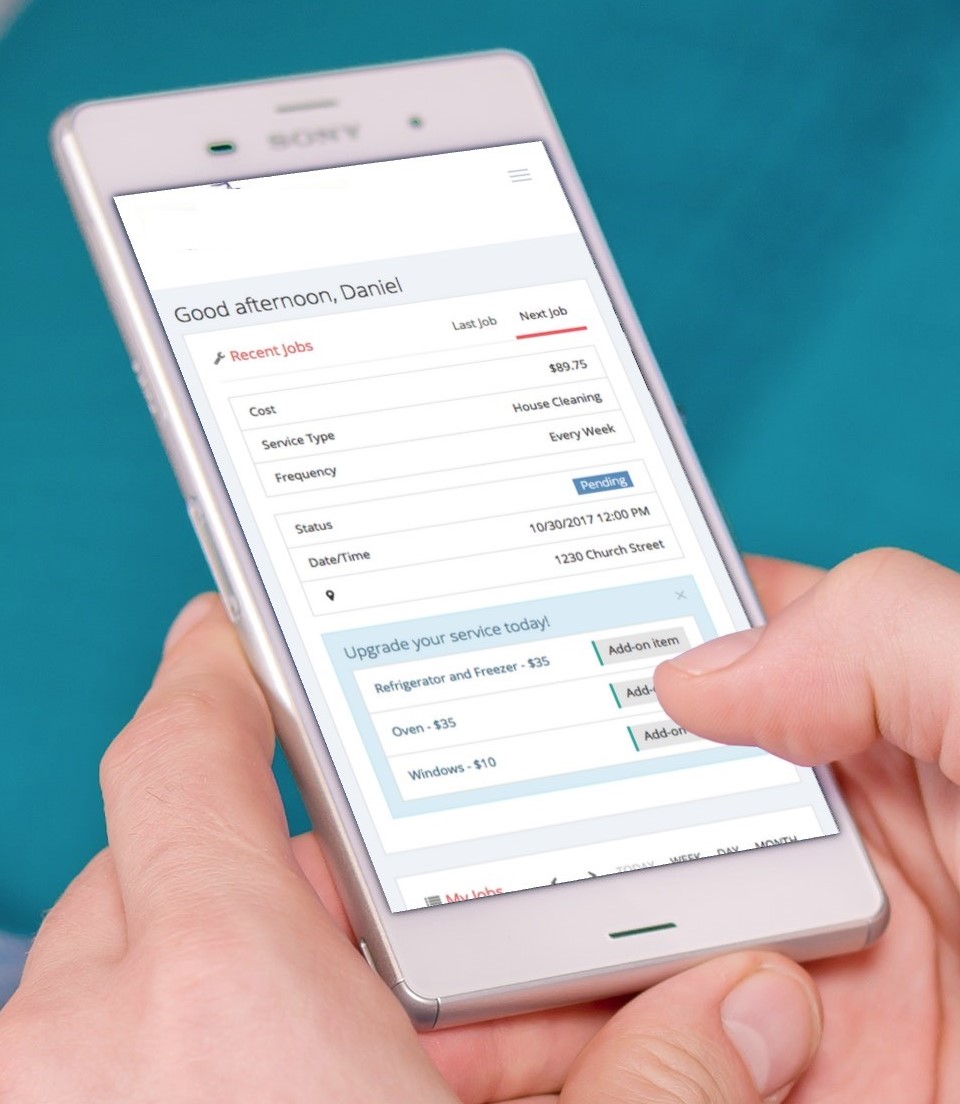 Our
cleaning service booking forms
bring an array of perks
MaidCentral incorporates tools and features designed to enhance ease of use, boost your customer engagement and satisfaction, increase booking rates, and bring more business and revenue to your company. Our online cleaning service booking form brings the following functionality to you and your customers:
A lead tracking form that channels estimate requests and collects client info

An online cleaning service booking form for easy scheduling and organization

Different types of automatic follow-up options for your company

Swift, easy, and intuitive online scheduling and estimating forms

Up-to-date information for all your customers
Frequently Asked Questions
What is an online booking system?
An online booking system for cleaning services is a software that allows your customers to book your services online. This eliminates all need for phone calls and sending and responding to emails. 
Instead, your potential customer goes online, visits your company's website, fills out an online booking form, gives you their information, chooses one of available time slots, and that's it. From there, the system notifies you of the appointment the customer made. 
Advanced platforms for online scheduling also automate the entire process. This means that the system itself checks for nearest available time slots according to customer's preferences and your current workforce availability. All that's left for you is to dispatch a cleaner at the designated time and at the correct address.
What benefits should you expect from an online booking system?
Online booking of cleaning services is not the future – it's the present. Failing to incorporate modern business trends and practices into your operations could cause you to start losing your customer base as more and more of your current clients turn to companies that offer such advanced functionalities. 
However, retaining your current clients and keeping in touch with the times is just the beginning of what an incorporating online cleaning service booking forms can do for your business. Other advantages include: 
You're open for business 24 hours a day and your clients can schedule an appointment at any time.

You can maximize the number of sales for all working days. 

Your company gets paid instantly and remotely. 

Your operations are no longer strictly tied to a phone. 

You can manage your scheduling calendar more efficiently. 

You eliminate the risk of double booking and repeat data entry. 

You get invaluable lead information from your online forms. 

You increase the level of satisfaction of your customers.

You automate a large portion of your operations.
What makes a good online booking system?
Incorporating an online cleaning service scheduling system is great, but only if you choose one of the cutting-edge solutions available. You should only pay for a system that offers the following functionalities: 
Separate forms for lead capturing and booking

Instant quoting with variable rate capability

Automatic data collection and incorporation across your system

Different options for automatic follow-ups with potential customers

Solutions that allow your customers to customize their scheduling 

Customizable booking form with widgets

Advanced real time availability settings

Functionality to sync up with your calendar

Detailed reporting and analytics
How do I choose an online scheduling platform?
Besides knowing which features you should look for in an online booking software for your cleaning service, you should also pay attention to choosing the solution that perfectly fits the requirements of your company. 
Here's how you can do that: 
Talk to your entire team and see what their priorities are

Align your list of preferred functionalities with the goals of your company

Keep your budget in mind, but always pay a bit more for a software that has all you need

Only choose a scheduling platform that's intuitive and easy to use

Pay attention to how your internal processes will become more efficient

Choose a software that can be easily integrated into your operations and website
Which online cleaning service booking system can advance my business operations?