Implement Custom Branding for Your Cleaning Company Across Vital Platforms
MaidCentral offers complete cleaning business branding within our service software and app. We offer multiple ways to customize the branding of your company on all the pages of your platform, including customer and employee portals, emails, surveys, and all booking pages. Plus, we offer extra options for additional implementation of your brand identity on other digital outlets.
Make your brand stand out with our help
At MaidCentral, we help you make your brand pop and your company rise to the top of the pack in your industry. We do this by showcasing your company name, brand colors, and business logo across all the pages of our platform, as well as other digital marketing channels you have. We bring brand consistency and enhanced brand awareness among your customers, helping you establish your business across multiple channels.
Using our app ensures the following benefits for your brand
Choosing MaidCentral as your dedicated cleaning company software solution will enable you to reap the following benefits of adequate custom branding implementation:
Uniformity
MaidCentral allows for complete brand uniformity across our entire software platform, as well as your website and other important online presentations.
Awareness
Through total uniformity, you will receive higher brand recognition from your customers that will remember and trust your colors, font, logo, and message.
Strength
A well-distributed and custom branding will get your customer base to associate your company with service excellence and boost your brand strength and reach.
Loyalty
Finally, customers will become loyal to a brand that is present in all their business interactions with your company and associated with positive experiences.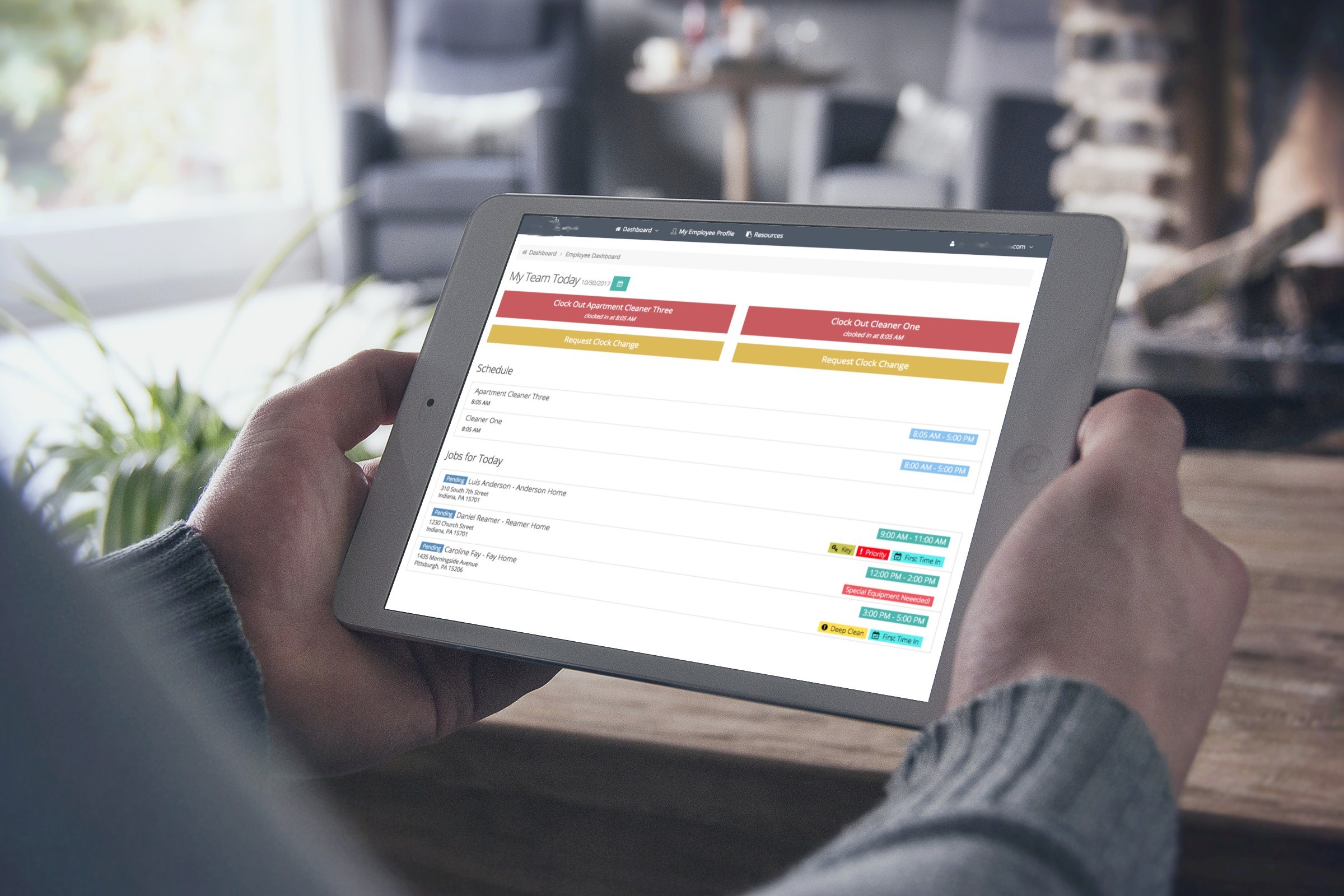 Achieve absolute digital marketing consistency with total brand uniformity
Developing a powerful branding for your cleaning service company means little without adequate exposure and consistency that will allow you to associate business excellence with your company's identity. MaidCentral software allows you to get your brand message across in a uniform and comprehensive way, across all the pages of our platform and in accordance with your website and other outlets you use for campaigns. This way, you ensure customers are more familiar with your brand, as well as with your company's ideals and services.
Get up to speed with your success story
MaidCentral will help you elevate your cleaning company branding to the next level by uniformly distributing it across all of the most important digital marketing channels. Create a consistent brand identity your customers will instantly recognize
A strong custom cleaning brand is the first step toward success
The first thing your potential customers notice is the most important thing they notice. That's why it's important to go with a strong, recognizable, and eye-catching custom branding for your cleaning service. MaidCentral is here to envision your company's identity by combining your core values, your services, and your special requests to create a contemporary and inviting brand image that will inspire trust, quality, and excellence.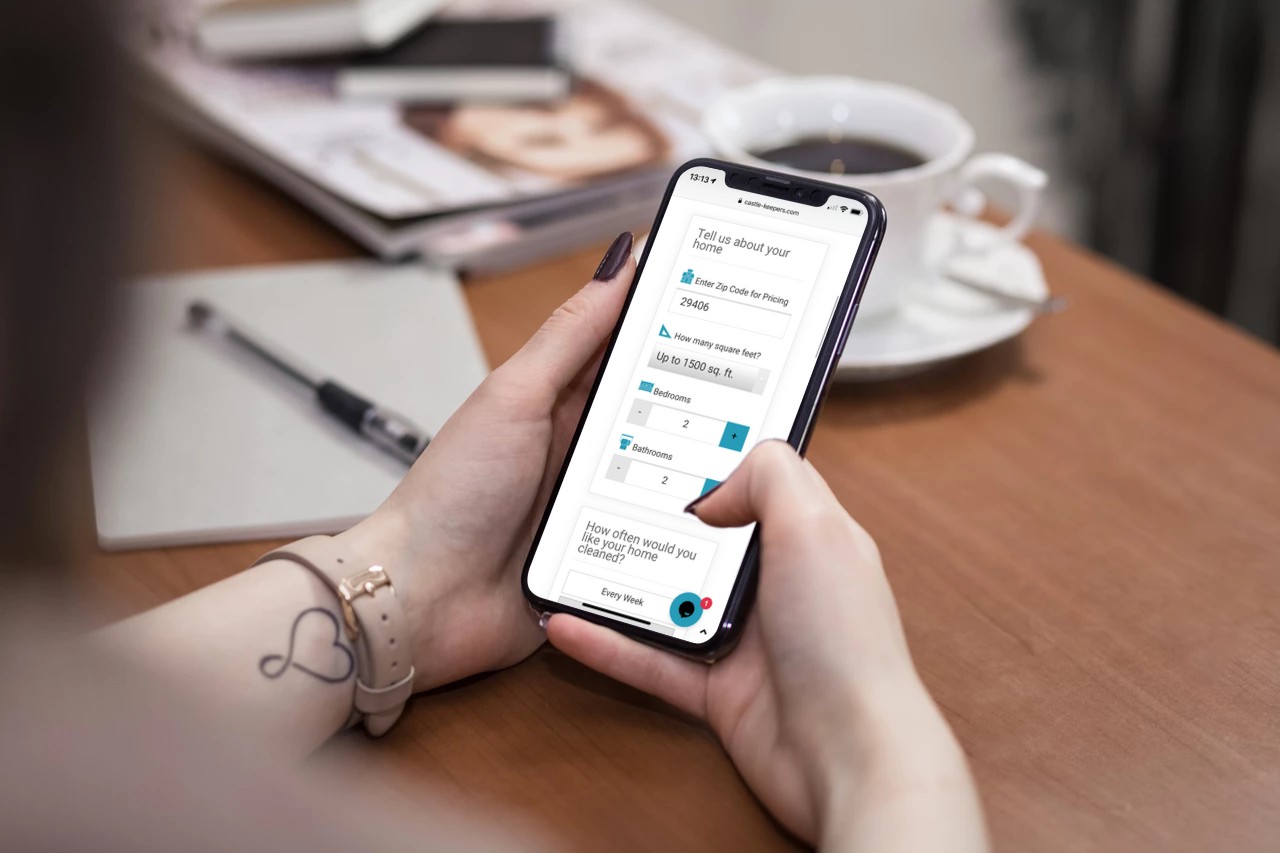 We have created an all-in-one software solution for optimizing your business processes and integrating your brand along the way. Automate your tasks and enhance scheduling experience while showcasing your brand identity and getting your message across in a recognizable way. Besides measuring customer and employee engagement, monitoring satisfaction, and improving workflow, our app also imprints your brand onto your clients.
Achieve brand consistency across your website and other associated platforms
Creating a strong custom branding for your cleaning service is the first step. Familiarizing your customers with it comes next, and MaidCentral is here for that. We don't stop at streamlining your scheduling, monitoring, and financial operations. We also strive to streamline your customer reach. We do this by consistently presenting your colors, company name, logo, and other aspects of your business identity across our entire software platform. This way, your customers will easily recognize your brand identity and associate it with your core values.
Boost your company recognition through proper branding implementation

We guarantee your complete satisfaction
Ultimately, MaidCentral is a company focused on client satisfaction. First, we explain how we will showcase your cleaning company name and logo in our app and platform. Then, we will work alongside you to perfect your current company identity before stamping it across your online presence. From there, we will make sure that your colors and name are visible throughout our platform, as well as your other digital marketing channels if necessary. Finally, we are here to fine-tune everything per your exact wishes. We want to see your business thrive.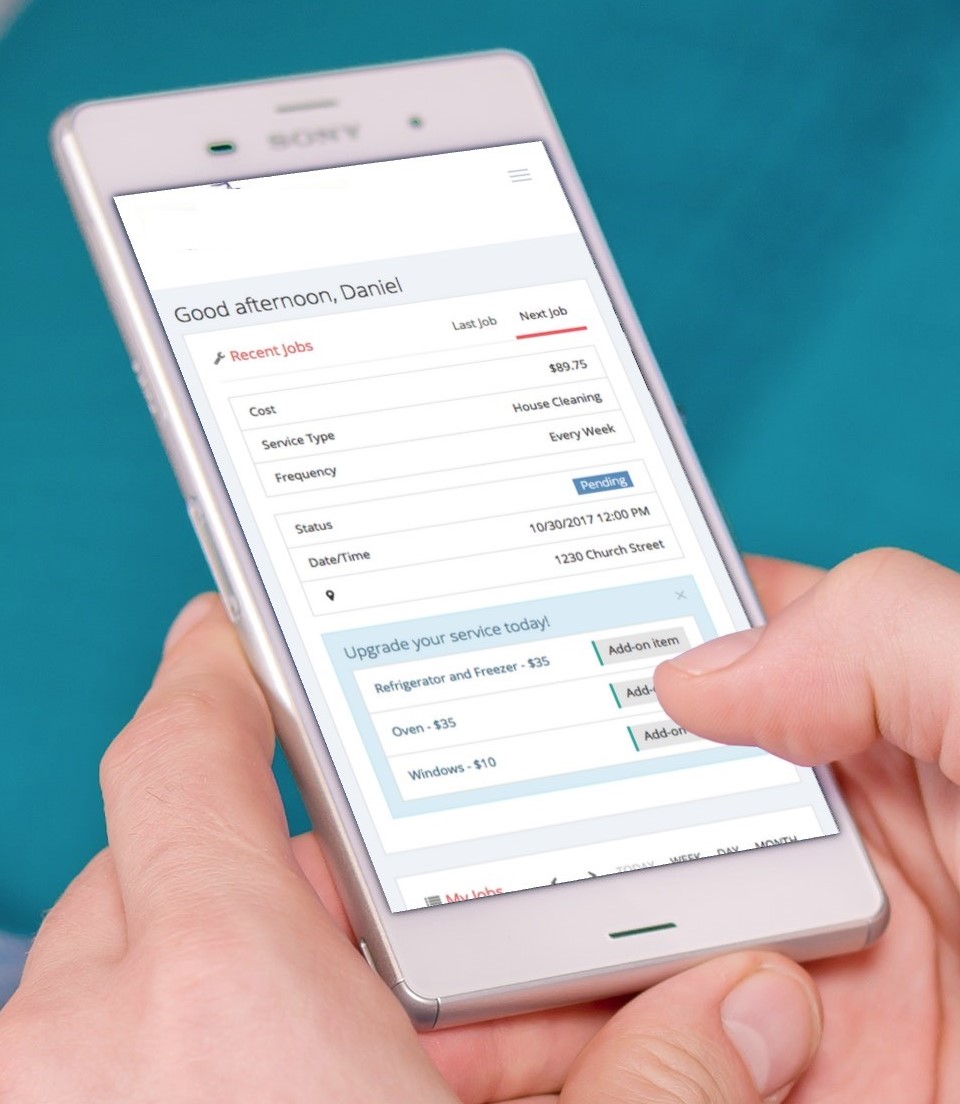 Don't just optimize your business – boost its identity!
MaidCentral is here to put an end to your struggles with getting your brand identity across to your customers. We will help you with picking out the right name for your company, combining it with the proper color palette, and top it off with a logo that catches client interest and sparks their imagination. Unlike other software solutions, we do more than just making your operations more efficient. e make your entire company stand out. Our uniform branding across all our software features and your online presence allows you to:
Create a unified company identity on all your online presentations
Boost company recognition by your current and potential customers
Increase the word-of-mouth referrals for your company
Enhance your overall digital marketing and advertising effectiveness
Increase the number of high-quality job applicants
Improve your employee motivation, satisfaction, and productivity
Lower customer pricing sensitivity for your services
Frequently Asked Questions
How can my cleaning company stand out?
A staple of any successful business, cleaning or not, is uniqueness and innovation. That is why you should try to differentiate your company from the competition by focusing on the following: 
Finding a niche for your cleaning business
Clearly identifying the target market for your cleaning services
Creating a helpful and pleasant customer experience
Offering reasonable and transparent pricing
Investing in employee training
However, as important as these aspects are, business owners often overlook an equally essential aspect of their company – branding. Branding is very important for boosting the digital marketing efforts for your cleaning business, which is why you should not only work hard on marketing ideas, but also on creating a stable and recognizable brand identity. 
Vital characteristics of a successful brand are:
Catchy and descriptive company name
An intriguing and unique color palette
A logo that pops
A slogan that reflects your company values
Uniform and complete implementation of the custom branding for your cleaning company
Don't overlook the final step – once you name your company, choose a color palette, develop a logo, create a slogan, make sure to implement it across all of your online platforms and presentation outlets. This includes your scheduling and monitoring software as well, as this is the app your customers will be using on a regular basis. This will strengthen your brand, boost company recognition, and create a more loyal customer base.
What should I name my cleaning company?
Creating a name for your cleaning business is probably one of the most difficult aspects of starting up your business. At least psychologically. Organizing your finances pales in comparison to being unable to choose from a wide variety of potential cleaning company names that all sound equally good, catchy, and professional. 
Luckily, there's plenty of useful information and advice on how to get ample ideas for your company name while ticking all the right boxes of customer awareness. Here's what you should pay attention to when choosing a name for your cleaning business:
Be descriptive about the line of work you area in
Be direct. Don't be too vague or general
Creatively use words related to your industry
Keep it simple and to the point
Refrain from copying your competition – be original and stand out!
Don't use your own name – be catchy instead
Think twice before using an acronym for your company name
What are the best colors for a cleaning company?
Choosing the best colors to represent your cleaning business is one of the most important steps of creating your brand identity. The colors of your company will be the first thing your customers notice, and the thing they will probably remember and associate with your company from the initial impression. 
This is why you should carefully choose the colors you want to implement in your company name, logo, online presentation, and all other real-life and digital marketing strategies for your cleaning services.
The first thing you should know is this – keep your color palette limited and simple. Don't add all the colors that look good – choose two to three colors for your brand that will stand out. It doesn't matter if you're looking for a gentle pastel look or a bold splash of strong color – minimalist palettes are always striking.
Then, choose colors that are generally associated with cleanliness, nature, purity, and order, such as green and blue. Finally, add another color that will make your branding stand out and separate your company from the rest. Here are the meanings behind some of the basic colors: 
Red: bold, energetic, stimulating
Orange: confident, friendly, cheerful, fun
Yellow: Positive, warm, optimistic
Black: prestigious, powerful, classic, serious
White: clean, sterile, refined, open, pure, simple, fresh
Purple: royal, imaginative, creative, wise
From there, it's all about implementing your colors across all the different platforms, including your online quoting, scheduling, and progress monitoring app. We can implement your chosen color palette across your marketing channels and help boost your company awareness and recognition.
How do I create a logo for my cleaning company?
Having a name and knowing which colors to implement to boost your brand recognition mean little without combining them into a slick, stylish and modern logo you can then use to boost the digital marketing and brand awareness of your cleaning company. 
Creating a logo is easier said than done, and many business owners get stumped, unable to design a logo that will present all of their values. However, there are a couple of tips that can make it easier for you to develop the best cleaning company logo that will boost your brand identity, recognition, and loyalty:
Make sure to implement a cleaning-related symbol within your logo
Keep your logo as clean, slick, and modern as possible
Use your company colors in your logo
Don't overdevelop the logo – empty spaces keep it looking clean and professional
Use shapes associated with the cleaning industry
Be as authoritative as possible with your logo
Incorporate your company name
After creating an impactful logo that draws the attention of your customers, we will implement it across all the marketing channels you're currently using, as well as your scheduling and monitoring app. Showcase your brand everywhere with our easy software solutions.
Which company can help implement my custom branding for a cleaning company into my service software?