The #1 Cleaning Business Software Is Waiting For You!
MaidCentral is the best cleaning company software available today. Our software allows you to manage and streamline your residential cleaning service by providing you with high-quality service delivery features, detailed mechanisms for payroll and staff management, revenue protection planning, detailed reports and analyses, and more. All you need under a single roof!
Our niche focus sets us apart from other software solutions
The single biggest thing that separates us from the competitors such as Service Autopilot, Jobber, Help Desk, and House call Pro is that we have designed a software specifically for the requirements of cleaning company owners. That is what makes MaidCentral the best scheduling and management software for cleaning businesses across the United States and Canada. We have created a focused solution through comprehensive research of the best practices of the cleaning industry. We have taken that knowledge and applied it to create an incredible track record of thriving multi-million dollar cleaning companies that keep growing and expanding their operations. Our list of successful clients is what separates us from our competitors.
Choose the
best cleaning business software
and experience the outstanding benefits
MaidCentral has developed the best software for cleaning businesses that brings the following
benefits to all cleaning service owners:
Security
Our best cleaning company software incorporates multiple layers of redundancy and security designed for maximum data safety and encryption.
Profitability
Our software encompasses advanced tools for forecasting and data collection and analysis for improved profitability of your cleaning business.
Satisfaction
Our software solutions allow you to keep meeting the promises you give to your customers and enhance their satisfaction with your services.
Engagement
MaidCentral software will boost employee engagement by allowing them precise info on their jobs, schedules, pay, and resources within a single space.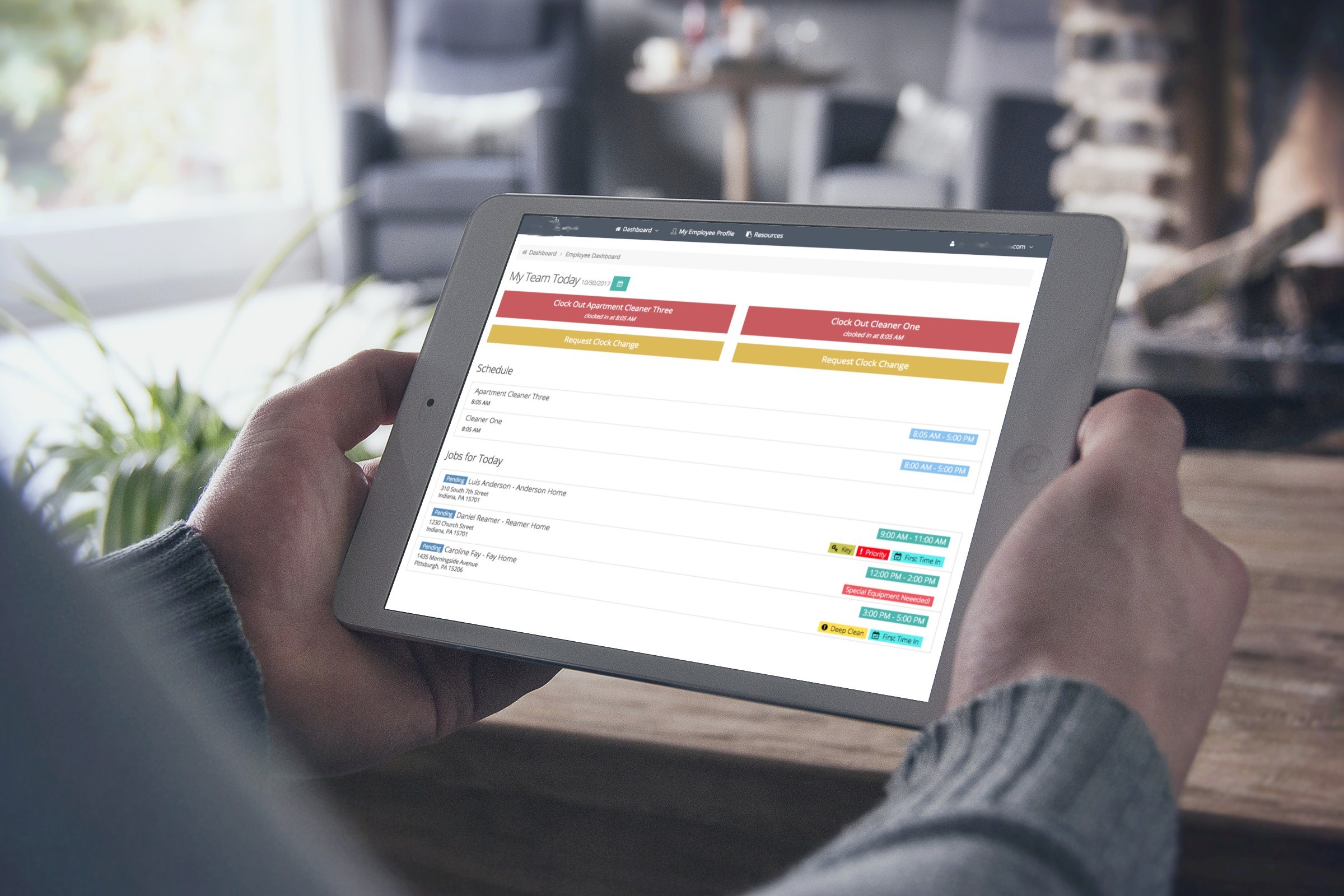 Take control of your success with advanced features of the best cleaning service software
There's plenty of cleaning service available for you to choose from. Companies such as Zenmaid, Service Autopilot, Jobber, and Housecall Pro offer a comprehensive set of tools and functionalities designed to help business owners across multiple industries improve their company management. MaidCentral has become the best cleaning business software by using advanced functionalities and tailoring them specifically to the cleaning industry. We offer the following features within a single unifying software– marketing and CRM strategies, advanced online booking, KPIs and financial reporting, seamless scheduling, payroll reporting, batch billing and invoicing, and quality management and measurement. No other provider can match this!
Our cutting-edge software has advanced tools the competition simply cannot match
MaidCentral makes bold claims that the competitors like Jobber, mHelpDesk, Housecall Pro, Service Autopilot and Zenmaid don't. We guarantee better employee productivity, happier and more responsive customer base, as well as increased profitability of your business. We're confident in achieving these goals because we have incorporated unique capabilities into the best software for cleaning businesses across the United States and Canada. This includes a dedicated job scheduler and booking platform, detailed dashboard with different financial and performance reports, and an integrated tool for creating marketing campaigns and boosting sales. Combining these features will improve your day-to-day operations for a better business.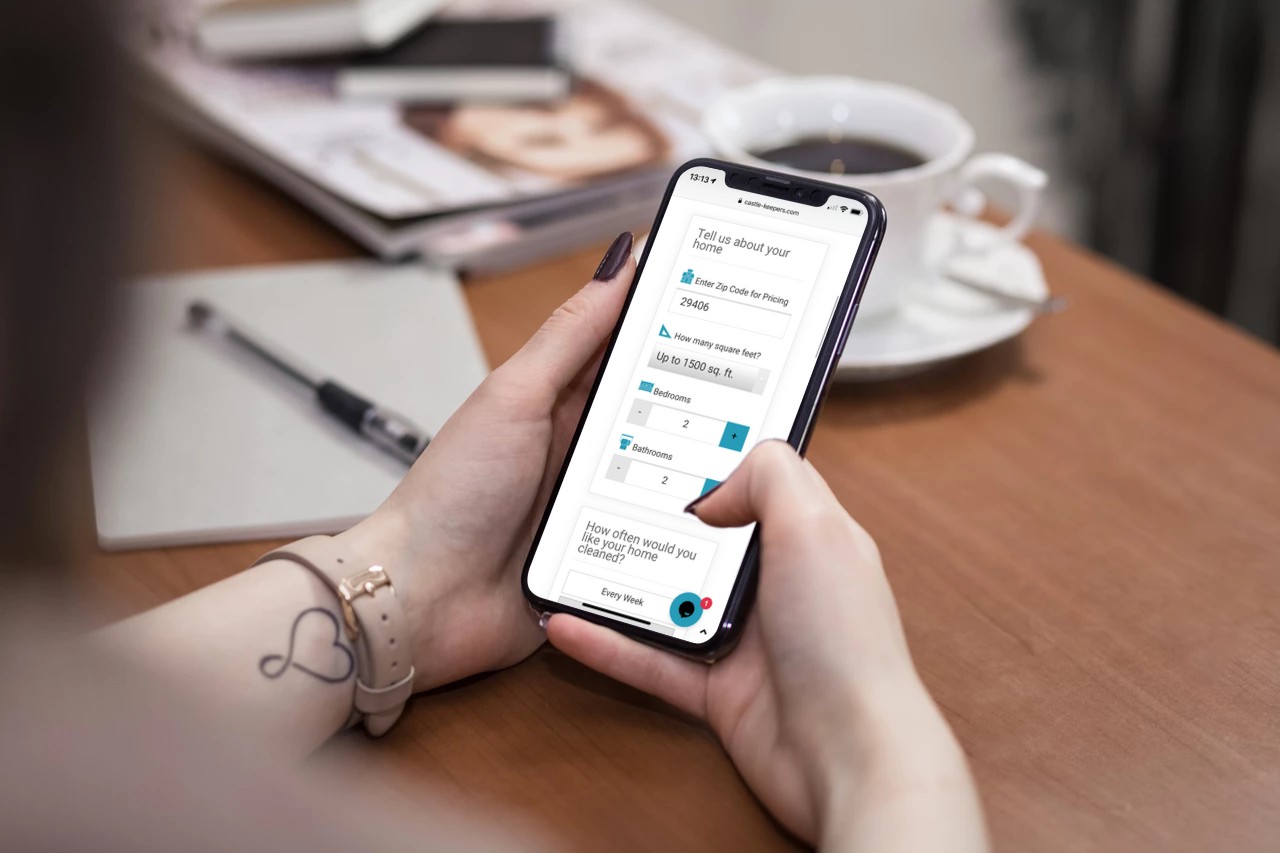 At MaidCentral, we understand the responsibilities, the struggles, and the desires of cleaning business owners. We know how overwhelmed you are with your daily tasks and how difficult it is to run a cleaning company. That is precisely why we have designed the best cleaning service software currently available on the market. Our software will automate all your repetitive tasks, give your customers an easy tool for booking appointments, allow you to streamline your job scheduling, and give you access to detailed data designed to further enhance your operations. Our unified solution will allow you to set up job worksheets, measure employee and customer engagement, and help you perform other tasks crucial to the success of your business.
We offer promises unmatched by other cleaning company software providers
First and foremost, MaidCentral guarantees results. Then, we offer numerous vital promises that allow you to have peace of mind while focusing on expanding your business. Your data is always completely secure with us as we take great care in protecting your business information. What's more, you retain full rights and own all the financial information and business data. There are no long contracts that would make you continue using our software – we retain our clients by providing results. You will also become an integral part of a growing network of successful business owners who share their experience and best practices.Finally, we will ensure you're in touch with software developments through our weekly training sessions.
Industry titans place their trust with the best cleaning service software

We guarantee customer satisfaction other software providers cannot
At the end of the day, MaidCentral is all about customer satisfaction. It is this personal approach to doing business that makes us stand apart from our business-oriented competitors. We will first guide you through all the features our software offers and show you everything you can do with it. Then, we will help you set everything up, tailor our software to your specific needs, and train you on how to best use all of the tools at your disposal to streamline your operations and make your business more efficient. Finally, we will show you how to access the vital performance data that indicates areas of improvement and allows you to adjust your pricing based on the information available. All this combined makes customers love our software!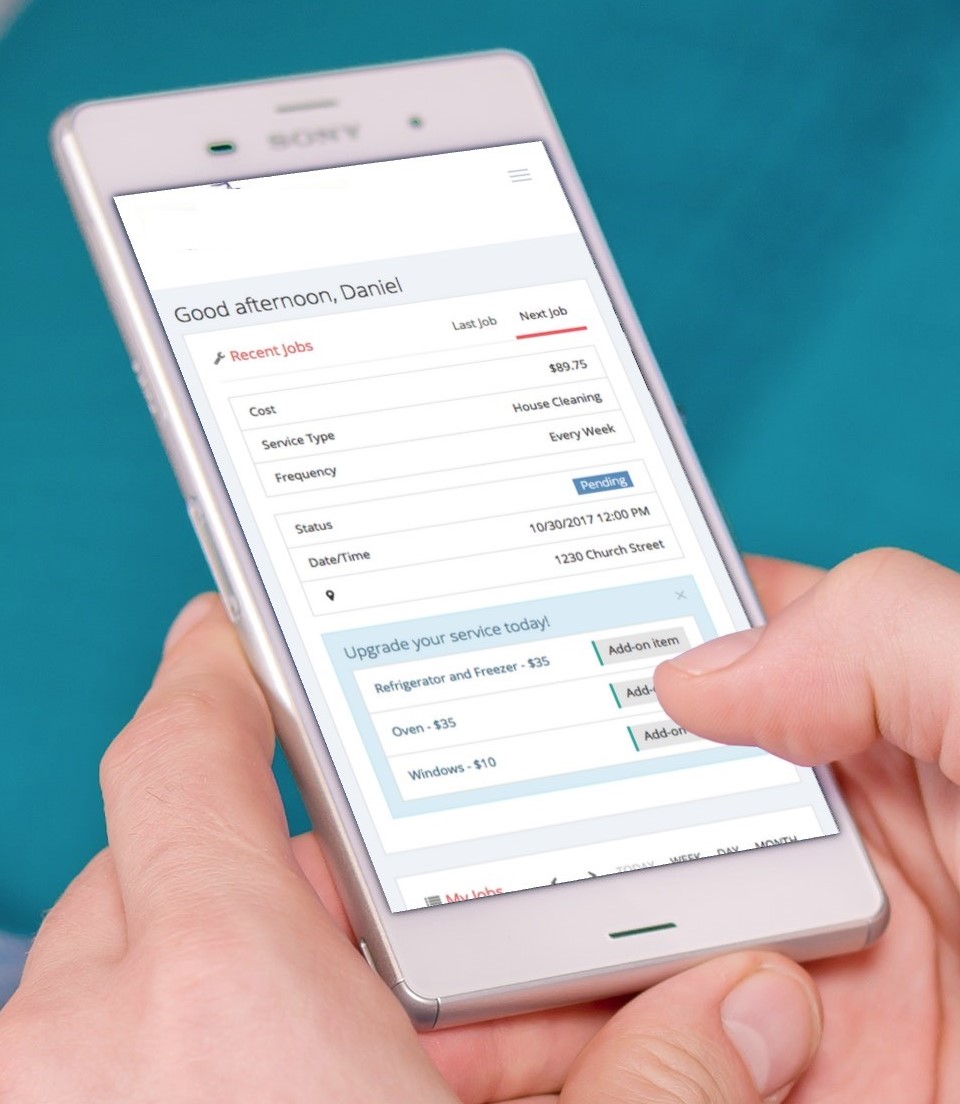 Stop the freefall of your business – soar to success with us!
MaidCentral has a single underlying vision – to help all owners of residential cleaning companies rise to success with help from the best scheduling software for cleaning businesses. While other companies offer software capable of tackling individual tasks, we have designed an all-encompassing solution that contains all the necessary tools for easily running a successful business. Our cleaning service software enables you to:
Automate all the repetitive tasks that would otherwise be too time-consuming.
Adjust your pricing scheme based on factual data to boost your profitability.
Follow-up more swiftly by offering high-quality targeted sales leads.
Improve the efficiency, the productivity, and the efficiency of your employees.
Enhance the satisfaction and retention of your customers.
Become an integral part of a community of thriving business owners.
Frequently Asked Questions
What is professional cleaning software?
A professional cleaning software is basically a software that allows owners of cleaning service companies to manage and optimize their operations. This type of software possesses the necessary tools for enhancing productivity, customer satisfaction, and operational efficiency by automating repetitive tasks and offering detailed information and data that help advance your business.
What is the best software for cleaning businesses?
There's plenty of options for field service management software that cleaning business owners use to enhance their business operations. However, solutions like mHelpDesk and Jobber are general field management programs that lack the specific functionalities that the cleaning business demands.
That is why you should keep searching for the best cleaning service software designed specifically for the requirements of your industry. However, that can be difficult, as maid service software tends to focus on arranging appointments between your company and the customer, with little additional functionality you could use to improve your business management.
What software do cleaning companies use?
Most software businesses use for managing their services are not specifically designed for maid companies, making them less than ideal for their requirements. Even the providers who focus on creating unique software for use in the cleaning industry fail to incorporate all the necessary functionality into their solutions.
For example, scheduling and booking platforms such as ChoreRelief, Handy, and TIDY are excellent for establishing a connection with your customer base and enhancing your booking process. However, they do not provide the necessary information and data you could analyze and identify room for company improvement.
Also, they lack any of the advanced functionality you can find in the best scheduling software for cleaning businesses. That is why many cleaning companies are starting to make the transition to better suited, all-in-one solutions such as MaidCentral.
How to find the best scheduling software for cleaning businesses?
The only way to find the best cleaning company software is to first clearly identify your specific requirements. However, you have to be aware of the fact that as you grow your company, your needs will expand and change. That is why it's often best to opt for an all-encompassing software that both provides what your business needs today, and will be capable of providing what your business will need in a year, two, or five.
However, such software solutions are rare and can be difficult to find, which is why you should perform thorough research before choosing your software. For example, solutions such as Zenmaid are designed for small businesses, and they simply do not scale well as your company thrives.
Others, such as Service Autopilot, do have much of the needed tools, but they are not targeted for the cleaning niche, making them lack the process, workflow, and reporting capabilities your company needs. MaidCentral, on the other hand, has no such problems and provides all the functionality a rising cleaning company owner needs.
Who offers the best cleaning service software?
MaidCentral is always a cut above the competition when it comes to the features, the benefits, and the functionality of our cleaning service scheduling software. Our booking, scheduling, and management all-in-one software solution will enable you to run a more streamlined and profitable business and spend less time taking care of minor details.
Also, you can take advantage of our detail-oriented key performance indicators we have assembled for our users, and explore our comprehensive Pay for Performance guide on driving your profits. We're a company that offers cutting-solution that encompasses all the vital functionalities under a single roof. Give us a call today!